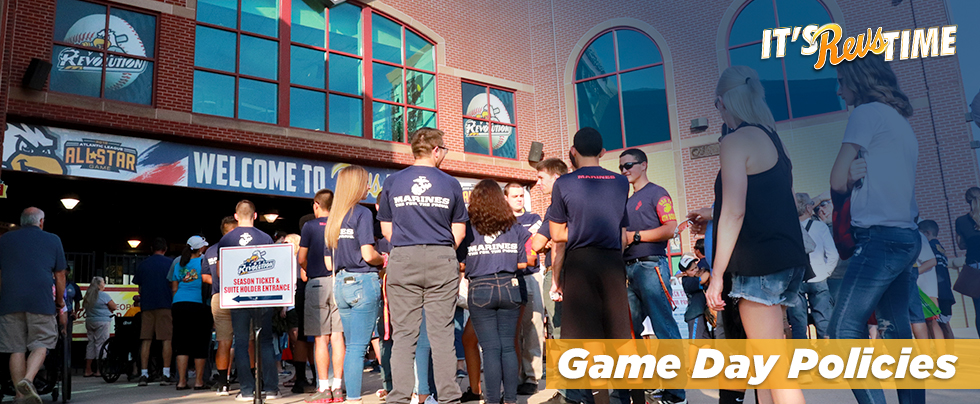 ALCOHOLIC BEVERAGES
Fans of legal drinking age with a valid form of identification are invited to consume alcoholic beverages in a responsible, non-disruptive manner. All patrons will be asked to show identification.
APPELL LAWN SEATING
Fans may bring lawn chairs and blankets into the ballpark to enjoy the game from the Appell Lawn section. Coolers are not permitted. The lawn has been named the Appell Lawn in honor of Mr. Louis Appell who passed away on June 27, 2016.
AUTOGRAPHS AND PICTURES
Fans are encouraged to ask players and coaches for autographs and pictures. However, once the umpires take the field, players and coaches may not sign autographs or take pictures until the game is complete. We ask all fans for their cooperation with this.
BAG INSPECTION
Fans are permitted to carry their belongings to the game in bags or backpacks. These are subject to inspection upon entry to the ballpark. Please refrain from bringing weapons of any kind into PeoplesBank Park.
CAMERAS
Fans are invited to use cameras and video recorders inside PeoplesBank Park. Photography and videography of the ballpark, the players, or the experience may not be used for commercial sale.
CHILD TICKET POLICY
Children under the age of three are not required to have a ticket for the seating bowl if they plan on sitting on an adult's lap. However, they still require a complimentary general admission ticket, which can be picked up at the Will Call window outside the Shipley Energy Ticket Office.
CONCESSIONS
PeoplesBank Park features many local York County and ballpark favorites that will make your mouth water from the second you step through the gate. No outside food or beverages may be brought into PeoplesBank Park. One sealed retail bottle of water is permitted per person.

EXIT AND RE-ENTRY
Once inside PeoplesBank Park, fans may exit through any of the four gates. Fans wishing to return into the ballpark must have a valid hand-stamp and ticket to re-enter. Re-entry is only permitted through the center field gate or the main gate.

FAN CONDUCT
The York Revolution strives to provide a family-friendly atmosphere. Obscene or offensive signs, clothing, language, or gestures will not be tolerated, and we ask that all fans refrain from this behavior. Fans failing to comply with these policies may be asked to leave PeoplesBank Park.

FIRST PITCHES
Throwing out a first pitch at a Revolution game is always an incredible experience. To be one of the lucky few to throw from the mound prior to the game, you can host your birthday party with the Revolution or make a $100 donation to Community Progress Council at the Fan Services Desk. If you're a business partner with the Revolution, be sure to talk with your account executive about how you can participate in this premiere baseball experience.
FOUL BALLS
Fans are reminded to stay alert at all times, as bats and balls may enter the stands. You are welcome to keep any ball thrown or hit into the stands. Fans may not, under any circumstances, interfere with a ball that is in play by leaning over the box seating railing or outfield wall. Violators will be subject to ejection from the park.

GATES OPEN
PeoplesBank Park gates will open one hour before the scheduled game time, unless otherwise noted.

FAN SERVICE DESK
The Fan Service Desk is located on the concourse behind home plate. Stop by the Fan Service Desk with questions, for lost and found, or for missing persons while you're at PeoplesBank Park. The Fan Service Desk is also where you can sign up for drawings, contests, and announcements.

INCLEMENT WEATHER/RAIN-OUT POLICY
In the event of rain, a game is considered rained out if 5 innings (4 1/2 if the Revolution have the lead) are not played. Should this occur, a ticket may be exchanged at the Shipley Energy Ticket Office for any remaining regular season home game, based on availability, for tickets of equal or lesser value. No refunds will be issued.

FOOD AND BEVERAGES
No outside food may be brought into PeoplesBank Park. One sealed retail bottle of water is permitted per person.
PUBLIC ADDRESS AND VIDEO BOARD ANNOUNCEMENTS
All public address and video board announcements must be submitted prior to the first pitch of the game you are attending. All fans making requests will be asked to make a $10 cash only donation to benefit Community Progress Council.
RESTROOMS
Restroom locations include the center field building, behind Section 23 on the third base concourse, behind Section 5 on the first base concourse, adjacent to the First Capital Federal Credit Union Team Store, and adjacent to Skybox 10 on the suite level. The family and center field bathrooms are handicap accessible and equipped with baby changing stations.
SMOKING
In consideration of the health and comfort of others, smoking and vaping is not permitted inside PeoplesBank Park. Fans are invited to smoke in designated smoking areas, which are located outside the center field gate or on the side of the plaza outside the main gates. Fans leaving the ballpark will receive a hand stamp that will enable them to re-enter the ballpark. E-cigarettes and vapor cigarettes of any kind are not permitted.

SPECIAL NEEDS ACCESSIBILITY
PeoplesBank Park is completely handicap accessible and exceeds all ADA requirements. Handicap accessible parking is available in the Brooks Robinson Lot and the Somerville Lot. Handicap seating is available at all price levels.

TICKET EXCHANGE POLICY
Fans may exchange unused tickets for regular season home game tickets for the Appell Lawn seating area. All other exchanges must be done at least 24 hours prior to the original game date at the Shipley Energy Ticket Office for comparable seating to any remaining regular season game. All exchanges are based on availability.
TICKET OFFICE SPONSORED BY SHIPLEY ENERGY
The Shipley Energy Ticket Office is located at the main entrance of PeoplesBank Park on the left side of the building. Hours are Monday through Thursday, 10 a.m. to 5 p.m. On game days, the Shipley Energy Ticket Office is open from 10 a.m. until the end of the fifth inning.

WEAPONS
No weapons of any kind are permitted in PeoplesBank Park.

WELLSPAN HEALTH FIRST AID STATION
The WellSpan Health First Aid Station is located on the concourse behind Section 9 on the first base side. Please report all injuries, accidents or any illnesses requiring assistance at this location, and do not leave the ballpark without reporting injuries.