York Revolution Fan Club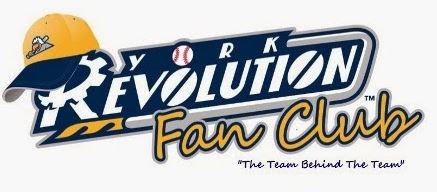 Join the excitement for the 2020 season!

The York Revolution Fan Club supports Revolution players, coaches, and management of the York Revolution. We strive to provide a great experience for our members as they cheer our team on to victory! Here are some of the exciting experiences planned for 2020:
2020 Season Kickoff Meeting - Get the inside scoop on the upcoming season on Sunday, April 19 from guest speaker, Revs Manager Mark Mason. Reservations required - contact Dennis Rote at [email protected] or 717-875-8015.
Monthly Meetings - Stay up-to-date on the latest news about the Revs as we meet in the Home Run Patio at the Ballpark at 4:00pm. We'll have a meet and greet with a Revs player(s) and give away some great Revs memorabilia! Meeting dates this season are: May 9, June 13, July 11, August 8 and September 12
Enjoy Revs Batting Practice - Get into PeoplesBank Park early on meeting dates (2:45pm) to watch the Revs take batting practice and warm up for the game before our meeting!
Welcome the Revs to the field with High Five Tunnels - High five the Revs as they take the field for the games on May 9, June 13 and September 12
Picnics with the Players - Interact with the team after the games on June 7 and September 13 in the Home Run Patio!
Support our All-Stars at the 2020 All-Star Game in Southern Maryland - Wednesday, July 15 we'll board a bus to boost our Revs high achievers! Stay tuned for more details.
Honor the Revs Monthly Outstanding Performers - You could be selected to present an outstanding monthly performance award to the players and All-Stars on the field before the game! Winners will be drawn at each meeting, and presentations will be held on the same dates as our monthly meetings.
Exclusive monthly newsletter and Facebook page!
Two free ticket vouchers for a regular season game when you sign up for the Fan Club!
$2.00 discount on regular season tickets when you show your membership card at the Shipley Energy Ticket Office!
Your Fan Club dues and contributions enable us to support the team as listed above as well as provide snacks, drinks, and fruit to the team for the long bus trips to away games. We also provide welcome gifts to the players and stock the clubhouse with various needs.
Meeting Dates: May 9, June 13, July 11, August 8, September 12
Post-Game Player Picnic: June 7 and September 13
Note - if an event is cancelled, nofication will be made via the Fan Club Facebook page.
Visit the York Revolution Fan Club Facebook page by clicking here!
Family Membership: $20.00 (2 adults and your children under 24)
Individual Membership: $10.00
2020 Fan Club Officers:
Dennis Rote, President
Helen Bair, Vice President
Alexis Arugunes, Secretary
Steve Gentzler, Treasurer
For more information on the York Revolution Fan Club or to join, please e-mail
[email protected]
.

Fan Club Members and their invitees, licensees, guests, or visitors, and their families, shall save and hold York Revolution Fan Club harmless and indemnify the York Revolution Fan Club from any and all claims, loss, damages, liabilities, cost, accident, expense, or in connection with injury (including death) or damage to any person or property in any way resulting from or connected with any function sanctioned by the York Revolution. The York Revolution Fan Club is an independent organization that shares no legal or fiscal assets and/or liabilities with York Professional Baseball, LLC (DBA York Revolution) or High Five Baseball, LLC. All applicants, by signing this agreement, also agree to abide by the by-laws of the York Revolution Fan Club.