News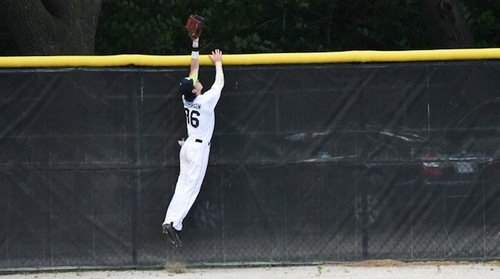 Worcester, MA — The Bravehearts lost their final home game against the North Shore Navigators in heartbreaking fashion, with a final score of 11-8. It was an exciting back and forth game with both sides hitting extremely well, but, infield errors and an impressive ninth inning rally by the Navigators proved to be too much for Worcester to overcome.
The Bravehearts went into the top of the ninth with an 8-7 lead and had held the Navigators scoreless for the two previous innings. Concordia College's Maurizio DeVita started the ninth, looking to get the save. After retiring his first batter, DeVita hit his next batter, putting a runner on first. DeVita's next batter, 6'2'', 274-pound Alex Brickman crushed a two-run home run to center field, his second of the day. Following Brickman's lead, first baseman Greg Kapuscinski hit a towering solo home run to centerfield to give the Navigators a 10-8 lead. Kendall Pomeroy allowed the 11th run via a bases loaded walk in relief of DeVita.
The loss overshadowed a terrific day for the Bravehearts' offense. Designated hitter Tommy Walraven was marvelous as he went 3-for-4 at the plate with three doubles and two runs scored. Centerfielder Trevor Jensen was terrific as well, going 4-for-4 with four RBI's. Hopedale native Joe Caico also had a great game from the batter's box. He went 2-for-4 and crushed a massive solo home run to right center field.
Despite the loss, pitching coach Casey Cummings remained confident in his team's abilities. "Unfortunately for Mo (DeVita) it didn't happen for us today," he said. "It's not going to deter us from going back to him again. We have all the confidence in the world in him."
The Bravehearts fall to 7-7 on the year with the loss and to third place in the West division of the FCBL. The team has a short two-day break before returning to action on Wednesday, June 21 against the Pittsfield Suns at the H.I.P. The last time these two teams played in Worcester the Suns came away with an 8-2 win. First pitch is at 7:05 PM.