All You Can Eat Tickets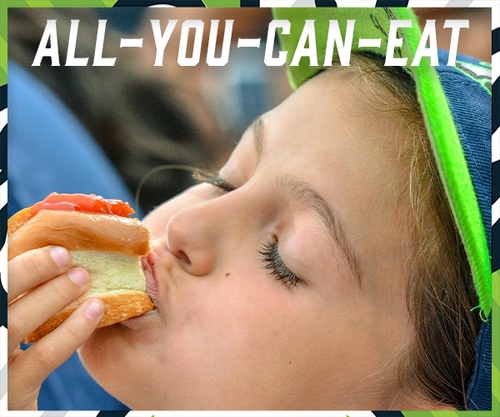 What's included in Worcester Bravehearts All-You-Can-Eat Tickets?
10 AYCE Flex Tickets for only $225 or $550 for 25 AYCE Flex Tickets.
Access to any (10) or (25) regular season home games.
Free Parking
Access to seperate All-You-Can-Eat concessions stand.
All-You-Can-Eat at a private concession stand away from the lines

Limit one sandwich, one side, and one beverage per person per trip to the concession stand
Full-service from the concession stand behind section B right next to the Bravehearts Team Store
Fans must be wearing All-You-Can-Eat wristband to gain access
Sit in any section of the ballpark.
$11 Kids All-You-Can-Eat on Sundays.
All-You-Can-Eat Menu:
Grilled Angus burgers, Jumbo Fitton Field Franks, Grilled Chicken Sandwiches, Grilled Veggie Burgers, Popcorn, Chips, 20 oz. Pepsi Products.
*Menu Items Subject To Change*
Questions? Please contact Assistant General Manager Nate Gonelli at 508-438-3773 or [email protected]
* 2023 FCBL Schedule to be released Winter 2022 *
If you would like to purchase an All-You-Can-Eat plan, please click here. If you would like to inquire about single-game all-you-can-eat tickets for family and friends, call Nate Gonelli at the Bravehearts office at 508-438-3773. All AYCE Tickets must be pre-purchased in advanced. AYCE tickets are not available for day-of-game purchase due to food pre-orders. Flex Tickets not redeemable for All-You-Can-Eat ticket.