News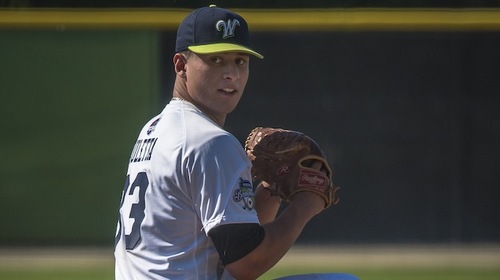 Leominster, MA— The Bravehearts continued their late game woes, as they surrendered four runs in the bottom of the eighth inning to lose a 16-14 ball game to the first place Dirt Dawgs. Worcester had climbed back after being down by eight runs in the third, but their bullpen could not hold the lead. The short fence at Doyle Field provided plenty of offense, as the teams combined to hit eight home runs.
The Dirt Dawgs took an early 8-0 lead in the third, as they hit three home runs in that inning, including a grand slam by Ryan Lever. Starting pitcher Anthony Auletta went just two and two-thirds innings, giving up eight runs and four home runs.
The Bravehearts would answer back in the top of the fourth when Joe Caico and Trevor Jensen each went deep to cut the lead to five. Worcester would eventually take the lead in the seventh inning on a Greg Kocinski three-run homer, but Cody Laweryson and Frankie Moscatiello could not hold the lead in the eighth. Jeff Korte provided the two out, two-run RBI single off of Frankie Moscatiello that gave the Dirt Dawgs the lead for good. Cody Laweryson picked up the loss for Worcester.
The team saw an excellent offensive performance once again from Trevor Jensen, who went 4-5 with two singles, a double and a home run. Joe Caico also had a stellar day at the plate, going 3-5 with a home run. Four Bravehearts players had at least three hits.
With the loss, Worcester falls to 10-10 on the season, while the Dirt Dawgs improve to 13-6. The Bravehearts continue play tomorrow night at home against the Brockton Rox at 7:05.