News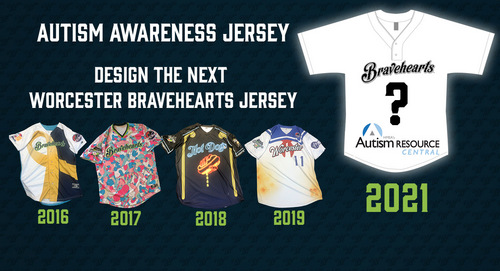 Worcester, MA— The Worcester Bravehearts have partnered with the HMEA Autism Resource Central for the team's first alternate jersey night of the 2021 season. The Bravehearts will run a two week design-a-jersey promotion from April 21 until May 5 where fans can submit their own creations of a Bravehearts jersey. The winning jersey design will be worn by the Bravehearts on HMEA Jersey Night in late June and the winning artist will throw out the first pitch prior to the game.
"HMEA has been a wonderful community partner of the Bravehearts since day one," said Bravehearts General Manager Dave Peterson. "We felt this was a great way to engage with the community, especially those who have been confined to their homes for the past 14 months. Art and Sports will converge again at Fitton Field this summer."
The jerseys will be auctioned off with the proceeds going to the HMEA Autism Resource Central. The Center was founded in 1996, and has since helped thousands of children and families in Central Massachusetts affected by Autism Spectrum Disorders. The Worcester Bravehearts and HMEA Autism Resource Central are proud to announce this collaboration during the month of April, which is Autism Acceptance Month.
"Families from HMEA's Autism Resource Central have been enjoying Worcester Bravehearts games since their very first season," said HMEA Director of Operations Kristen Cariglia. "Our families have spent countless afternoons at the ballpark, enjoying the game and connecting with other families- which is why we are so excited to be collaborating with them this year, for the first Worcester Bravehearts/HMEA's Autism Resource Central jersey design contest."
A jersey template can be downloaded HERE. Submitted designs should be made with marker to be easily replicated on the digital jersey print. Fans can submit their jersey designs by either mailing them to 39 Jolma Road, Worcester, MA 01604, or submitting them on the Bravehearts' website HERE. The use of graphic design software is allowed, but not necessary. The deadline to submit a jersey design is Wednesday, May 5, 2021.
Along with throwing out the first pitch, the winning artist will also receive a custom replica of their created jersey.
Season tickets, group outings, mini plans and flex packs are now on sale by calling the Bravehearts office at 508-438-3773.