Ownership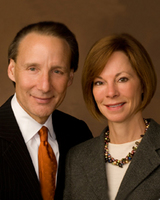 Pat & Lindy Salvi
Owners
Pat and Lindy Salvi of Chicago, IL purchased a 100% stake in the Gary SouthShore RailCats in April 2008.
A lifetime baseball aficionado, Mr. Salvi decided it was time to enter the world of minor league baseball and purchased his first team, the Gary SouthShore RailCats, in 2008. After finding much success with the RailCats, including reaching the playoffs in each of his first three seasons and the championship in 2013, Mr. Salvi expanded his enterprise to include a 100% interest in the Schaumburg Boomers (Frontier League). Under Mr. Salvi's leadership and direction, the mission of Salvi Sports is to combine family, fun, and baseball to provide an exceptional level of affordable family entertainment in a safe and enjoyable atmosphere. This will be the RailCats 18th season in the league.
Pat Salvi is the managing equity partner of the prominent Chicago personal injury law firm, Salvi Schostok & Pritchard, P.C. He attended Saint Mary's University in Winona, Minnesota where he received his Bachelor's degree, and then received his Juris Doctorate from the University of Notre Dame. He has published numerous articles in law journals, lectured at legal seminars, taught classes at universities such as Northwestern, Harvard and Notre Dame. He currently serves as the Chairman of the Law School Advisory Council at the University of Notre Dame and also serves as the Director of the RailCats as its representative with the American Association of Independent Baseball.
Mr. Salvi is one of the most prominent attorneys in the country, consistently recognized with "Best Lawyers in America", "Illinois Super Lawyers", and "Leading Lawyers." Mr. Salvi's peers have selected him to the Illinois Super Lawyers Top 10 List every year since 2014 and Leading Lawyers Magazine has named Mr. Salvi to three "Top Ten" lists every year since 2016. In 2017, Mr. Salvi served as lead counsel on a trial team that obtained an Illinois record-high $148 million jury verdict.
Salvi Schostok & Pritchard, P.C. represents victims in personal injury, medical malpractice and wrongful death cases.
Lindy Salvi graduated from Saint Mary's College in South Bend with a nursing degree, meeting Pat while at school. Along with raising their five sons, Lindy became an active community volunteer. She has been involved as a member, committee chairperson, board member and chairperson with School of Saint Mary of Lake Forest, Junior League of Evanston-Northshore, Carmel Catholic High School, Misericordia Heart of Mercy Homes, St. Patrick Church, Lake Forest, IL, and Holy Name Cathedral, Chicago, IL. She currently has a practice teaching AntiGravity Fitness.
The Salvi family is excited and thrilled to be part of the Northwest Indiana community and to lead the RailCats to another outstanding season in 2020. Go RailCats!
About the Railcats
A day at Steel Yard is non-stop fun, and that's even without the baseball! The RailCats promise a wide array of laugh-out-loud between inning entertainment, great giveaways, jaw-dropping fireworks and a family-first, kid-friendly atmosphere! RailCats fans come in all ages, shapes, and sizes, and the RailCats promise every fan will have fun.
Quick Links
Find Us
Steel Yard
One Stadium Plaza
Gary, IN 46402
219.882.2255