Corporate Parties
ARE YOU IN CHARGE OF YOUR COMPANY'S CORPORATE PARTY?
We suggest you plan something:
Absolutely Perfect
Wildly Exciting
Deliciously Different
Really Easy!
Host the party they will never forget! Perfect for any size group! Group seating, endless catering options and we do all the work!
Choose your perfect party location: Luxury Suite, Lower Bowl Seating, Party Deck, Corner Club Lounge & more.
A limited number of holiday party dates are available. Call our Group Fun Department at 812-435-0874 to plan your perfect corporate party with the Evansville Thunderbolts!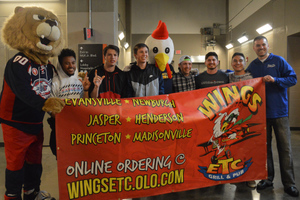 Group packages are available in regular arena seating or in one of our premium party areas:

The Ice Box brought to you by Diamond Valley Federal Credit Union - $15/Ticket (Minimum 10 ticket purchase)
Our new The Ice Box brings your party to ice level for all the fast hockey action! The Ice Box features glass seating views without glass seating prices. Options for suite style catering are available as well. The lounge has lots of space for your company party, friendly gathering, birthday party, etc. with couches and high-top tables. Everyone can enjoy the game and not have to be restricted to their arena seat. The Ice Box brought to you by Diamond Valley Federal Credit Union, a private party area that's a part of the action.
Party Decks 113/109 - $10/Ticket (Minimum 10 tickets)
Our lower level Party Decks become hangout areas for larger groups that want to be social and not be restricted to their arena seats. High top tables and seating provided. Options for suite style catering is available. Some arena seating in section 113 is provided.
200 Level Party Deck
The 200 level Party Decks take you to our upstairs center ice view party decks. These party decks like our others give you a private setting for your gathering or party but with a unique view. Suite style catering also available. Seating available up to 40 people.