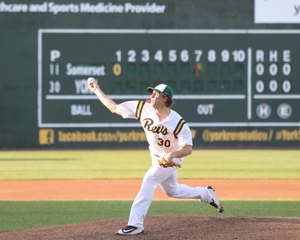 (May 13, 2019 – Sugar Land, TX): Mitch Atkins fired six shutout innings and the York Revolution offense was firing early in a big 8-3 victory over the Sugar Land Skeeters on Monday night at Constellation Field. The win snaps a six-game skid for the Revs who improve to 5-11, settling in for a seven-game stay in the Lone Star state.
York quickly broke out with a four-run second inning. Isaias Tejeda and Welington Dotel jumpstarted things with singles, and Nate Coronado capitalized by nailing a two-run double to the gap in right-center. After Ryan Dent singled to keep the line moving, Justin Trapp drove a sac fly to center for the third run. Henry Castillo capped the outburst by drilling an opposite field RBI double down the left field line with two outs in the inning, making it a 4-0 lead and extending his hitting streak to eight straight games. It was his league-leading 10th double and 13th extra-base hit.
The Revs took advantage of a Skeeters miscue in the fourth as shortstop Ryan Jackson's errant throw with two outs allowed a run to score. Telvin Nash made them pay further by slugging an RBI double to the gap in left-center, and Tejeda followed by ripping an RBI single up the middle as the lead suddenly grew to 7-0.
Atkins (1-1) was dominant in his second start of the season, taking a one-hitter into the fifth and limiting the Skeeters to just three hits and one walk while striking out seven.
Nash blasted his third home run of the season just right of the center field batter's eye to lead off the seventh, increasing the lead to 8-0. It is the 56th home run of Nash's Revs career as he moves within three of Chris Nowak for second on the franchise's all-time list, and 10 shy of Andres Perez' club record of 66.
Peter Tago struck out two in a scoreless seventh and came back out for the eighth. A leadoff walk to Alvaro Rondon and a one-out error by Trapp on a long fly in deep right-center put runners at second and third. Jameson McGrane entered and retired Anthony Giansanti on an RBI ground out that broke up the shutout. A wild pitch brought home a second run cutting the lead to 8-2, but McGrane struck out Albert Cordero to strand two runners.
Jarret Martin entered in the ninth, having walked just one batter in four scoreless innings to begin his time in York in 2019, but struggled to find his footing and walked four to force in a run while recording one out. Julio Perez was called upon and struck out both Giansanti and Cody Stanley to preserve the victory and earn his third save, leaving the tying run on deck.
Notes: The eight runs is the most scored by the Revs in a game at Constellation Field since May 20, 2017. The six-game losing streak is halted one shy of matching a club record, most recently occurring in June, 2017, a season that saw the Revs win an Atlantic League title. The Revs tied season-highs with four runs in an inning and four consecutive hits in the top of the second. The Revs have now won three straight travel-day series openers at Sugar Land, and four of the last five going back to 2017. It was just the fourth road game in the season's first 16 contests for the Revs who improve to 3-1 on the road. It was the first game for the Revs against a Freedom Division opponent after playing their first 15 against the Liberty Division. York righty Matthew Grimes (1-1, 0.55), the league leader in ERA, faces Skeeters right-hander Kevin McGowan (1-2, 3.55) on Tuesday at 12:05 p.m. ET. Revs fans can catch the action live on SportsRadio 98.9 FM & 1350 WOYK, 989woyk.com, The New WOYK app, and WOYK on YouTube beginning at noon with Darrell Henry on the call.