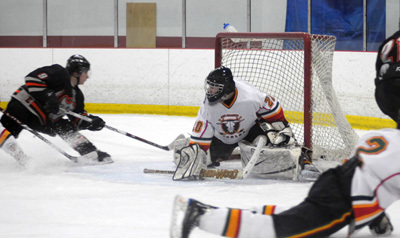 El Paso goalie Andrew Duff recorded his fifth shutout of the season, forward Nick Gualano notched another hat trick, and the Rhinos ripped the San Antonio Diablos, 7-0, in the Alamo City Friday night.
Returning from homecomings, Thanksgiving turkey and a nine-hour bus ride apparently didn't slow down El Paso, as Austin Balko scored at 18:45 of the first period and the Rhinos never looked back.
Leading the Western States Hockey League in goals scored, Gualano scored his first at 4:55 of the second, followed just 44 seconds later by Tyler Ridgedell. Mike Vallier made it 4-0 El Paso to close out the second frame with a goal at 12:25.
Gualano opened and closed the scoring in the third period, tallying his second goal on the power play at 3:45 and his third at 13:32. Sandwiched between was defenseman Kyle Shapiro's goal at 12:21.
The Rhinos lead the Mid-West Division on the man advantage, converting 29.4-percent of their power play chances.
Though San Antonio put in 31 shots on Duff, the Michigan, native stopped all of them while his teammates poured in 46 shots of their own.
El Paso is now 22-3-0 and its 44 points paces the Mid-West Division by 14 points. Both teams play twice more, Saturday night and Sunday afternoon. Games can be seen through a link provided at www.diabloshockey.net <http://www.diabloshockey.net/>.
Friday's game is the first of six straight the Diablos and Rhinos will play each other. Next weekend, Dec. 4-6, the two teams will play in the Sierra Providence Events CenterEl Paso celebrates Military Appreciation Weekend. as
The Rhinos will wear special military jerseys that will be auctioned off after Saturday night's game to benefit Operation Santa Claus, which gives toys to underprivileged children in the El Paso area.
For tickets and more information, contact the Rhinos front office at 915/479.PUCK (7825) or go to www.elpasorhinos.com.