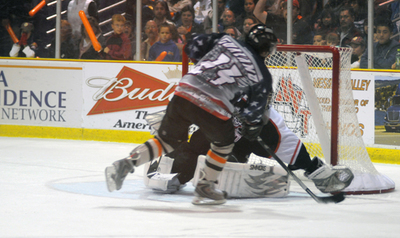 (EL PASO, TX) – The El Paso Rhinos became the first team in the Western States Hockey League to 20 wins and 40 points, drubbing the New Mexico Renegades, 8-1, Saturday on Boy Scouts of America Night at the Sierra Providence Events Center.
The SPEC was jam-packed with scouts and their parents and the Rhinos played in special jerseys designed with the Boy Scouts logo. After escaping a persistent Renegades team with a 6-3 win in Albuquerque Friday, the Rhinos lived the Boy Scouts credo Saturday – "Be Prepared".
It started with Tyler Ridgedell's short rebound goal just 36 into the game, and though New Mexico didn't allow a goal for another 32 minutes, El Paso swarmed beleaguered Renegades goalie Joe Jagers.
The dam broke loose on a New Mexico power play, as Rhinos forward Nick Gualano checked the Renegades off the puck at their own blue line and skated in untouched, deking Jagers down to the ice before tucking away nifty backhander at 12:16 of the second period.
Anthony Knuth scored again just over two minutes later and the rout was on.
Gualano notched his second from the top of the slot with a laser wrister that beat Jagers under the glove at 17:50 of the second.
El Paso's John Redmond scored twice to start the third period, beginning a four-goal third just 1:50 in, then following it with his fifth of the season at 4:58.
Andrew Alpsteg scored on a wrap-around at 7:53, and Ridgedell wrapped up the onslaught less than a minute later at 8:42.
The Rhinos improve to 20-3-0 and their 40 points paces the Mid-West Division. New Mexico falls to 3-17-0.
Both teams wrap up the three-game series Sunday afternoon at 5:30 p.m. MST at the Sierra Providence Events Center. Saturday's game can be seen on Time Warner Cable's MetroSports, ch. 24, at 3 p.m. Sunday, and Sunday's game will be seen Monday at 3 p.m.
For tickets or information, contact the Rhinos' front office at 915/479.PUCK (7825) or go to www.elpasorhinos.com.