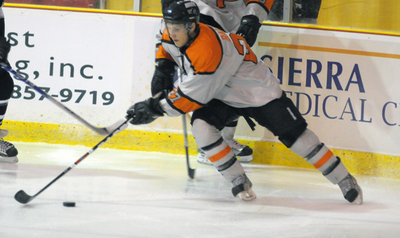 El Paso's Austin
By: Mykal Santana
UTEP Student
Being an assistant last year, Austin Balko took the reigns as team captain for the 2009-2010 season. He's taking his leadership to new heights and has his eyes on leading the Rhinos back to another Thorne Cup Championship.
The boy from Midland, Michigan has become a man in front of the eyes of the Rhino faithful for the past three years. He stands at 5'10'', weighs 170 lbs and has become an elite left-handed center in the league.
Scoring 33 goals, 61 assists and a total of 94 points in the 2008-2009 season Balko looks to improve on his already dominant career. The transition from being an assistant to a captain can be challenging even for an upcoming star like Austin.
"He's progressed pretty quickly. It's different being an assistant and a captain," said head coach Cory Herman. "He learned a lot last year from the guys around him and this year he's done really well."
The Rhinos roster has changed significantly since Balko first started playing with the team. This new roster has potential but is filled with many first year players such as Navarone Copley. Copley is one of the young men that look's for Balko to put him under his wing throughout the season. "I couldn't have picked a better captain myself," said Copley.
Balko had a lot of guidance when he first came to the team. During his second year of junior hockey he found a home in El Paso playing for the El Paso Rhinos for the first time. "No matter what team I'm on I'm going lead because it's my third year on the team and my fourth year in junior hockey," said Balko. "I have the experience and knowledge to lead them. Plus I can put myself in the young guys' shoes because I've been there before."
One attribute that Balko has is his leadership on and off the ice. His father was in the military, knows what it takes to be a good leader and has been a role model for his son since he first got on skates and picked up a stick.
"When I was young I had the attitude on whether you lead or follow," said captain Austin Balko. "On and off the ice I always had the will lead, my dad instilled that into me."
A good leader has his team prepared no matter what kind of situation they're in. Throughout the season Balko's leadership has been reflected by strong, smart, and physical play from the team. When they are faced with adversity they look to their leader to guide and lead them through the path of success.
" He's done well. He's had to deal with losses this season and he's done a good job of getting the guys prepared the following day and leading them to a victory," said coach Herman. "For the guys to have the same goal they have to be led by a great leader. He has a hard work ethic and he makes sure that the team is staying on track and doing their part on and off the ice."
Just like a great general needs his sergeants, a great captain in hockey needs his assistants. This year coach Herman has provided Balko with assistants that have helped him look after the younger guys. During his first year Balko learned the importance of not only having a great captain but also having great assistants.
"The assistants that coach chose were great selections because they've made my job easier and I'm thankful for them," said Balko. "Now I realize that if the guys need someone to turn to then they'll turn to me and if I need help then I have my assistants who I'm thankful for."
The Rhinos are first place in the conference and have a dominant seven game lead over the Boulder Bison. Balko has led the Rhinos to an 18-3 record and are looking to improve when they play the New Mexico Renegades during they're "Boy Scout Weekend."