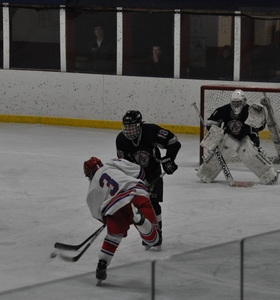 Most recently, the Rhinos signed Wisconsin forward Joe Roach to play his first year of junior hockey in the Sun City. During the latter part of his high school career, Roach played for the Northland Pines Eagles in the Wisconsin Prep League. In only 14 games, the 5'9 180 lbs. forward had a perfect "shots on goal" percentage and averaged nearly a point a game. In Northland's first post-season game, Joe rounded out his season scoring with four points. The subsequent game ended in elimination for the Eagles and the team split the season with 11 wins and just as many losses.
Despite being one of the younger players on the 2015-2016 Rhino roster, Roach is ready for the elevated level of play. Very pleased with the coaching staff in El Paso, the Wisconsin native described them as "honest and…looking out for [his] best interest—looking to move [him] on to the next step." Additionally, the player facilities and community support also were significant in his decision to travel to Texas. "I chose the El Paso Rhinos because I feel that it is the best place for me to improve my skills and move to the next level."
Although he proved his accuracy in his last season as a high school player, Roach doesn't see that as his most laudable playing quality. "My best attribute as a hockey player is digging for the puck, never giving up, creating opportunities for my teammates, and always finding a way to win," he notes. Described as a leader, the centerman is also a notable team player who is extremely motivated off and on the ice. Planning ahead, Roach explains, "My hope is to move to [the] USHL and play college puck while earning a business degree that I can apply after hockey takes me as far as my talent will allow."
With the season's start over a month away, Joe's excitement is building. "I am looking forward to playing for a much bigger crowd, and using everything that this organization offers to me so that I can help this team win and also help advance myself and my teammates to the next level." He is also ready to live in a larger city, build new relationships, find a local church community, and experience winter temperatures above zero.
Humble and determined, Roach's gratitude is an important element of his success. "I will never forget how blessed I am and how I got where I am, always giving thanks to those who helped me along the way."
We are happy to welcome the newest Rhino to the Sun City! Keep up with Joe and the other Rhinos on the Official Mobile App.