Staff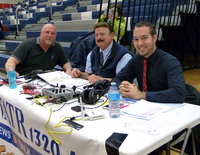 Chris Saunders
Play-By-Play Broadcaster-Media Relations
Phone:
860-483-0448
E-mail:
Chris Saunders is in his second season with the Bristol Blues as the Play-By-Play Broadcaster & Media Relations coordinator. Chris brings his love of sports and his expertise with statistics and sabermetrics to create a unique perspective on the broadcast.
Throughout his seven years as a professional broadcaster Chris has refined his skills as a commentator and Media representative.
Beginning as an Intern at 89.9 FM WAPJ Community Radio in 2011, he was a member of the sports department that broadcasted a wide variety of local sports both High School, American Legion, and Collegiate levels. At the High School side he was the Play-by-Play voice of the Torrington Red Raiders Football and Basketball.
At the Collegiate side Saunders was a critical part of the broadcast crew during his time 2011-2015 of Play-by-Play of the Torrington Titans. During his time his knowledge of the game, as well as his detailed description of plays goes without saying.
Saunders has written for two websites "Bronx Chronicle" and the "NY Sports Day" of which he covered the New Britain Bees and Bridgeport Bluefish of the Independent Baseball League. He conducted a vast amount of interviews with players and coaches alike as well as pro and amateur scouts who came to watch the games.
Chris also works for two separate companies during the spring and winter for their respective sports.
With the Northeast Sports Network Saunders covers Trinity College and Wesleyan University of the NESCAC for their softball programs.
As for DET Sports Media, which films for the local public High Schools in Waterbury CT. Saunders has been the Play-by-Play voice for the up-coming basketball talent in the greater Waterbury area for the last three years.
During his non game days, you can catch Chris on multiple radio fronts as a co-host of numerous sport talk shows.
Saunders is the co-host of the "X-Factor" which airs every Thursday from 6pm-7 on 89.9 FM WAPJ Community Radio as well as the "Saturday Night Sports Scene" from 6pm-8 on 88.7 WNHU West Haven.
Chris's Duties with the Bristol Blues this 2019 Season are as followed:
-PXP of all home games for the Bristol Blues, as well as pre-post game interviews. Conduct one-one with each player & coach to become better connected with each individual.
-Update recent news on players during the offseason-away games.
-Use of all social media platforms- Facebook, Instagram, Twitter, Snapchat