Host Families
BECOME A
BRISTOL BLUES HOST FAMILY TODAY!
Host Family Program Overview
Each season, young men from the Bristol Blues Baseball Club will arrive in Bristol from their hometowns around the country. The Host Family Program has helped these young men to be able to play in Bristol for the summer by providing them with a welcoming home. From the end of May through the beginning of August, these ball players will continue to hone their baseball skills playing 56 regular season games in the Futures Collegiate Baseball League working toward their goal of a professional baseball career.
Throughout the history of baseball, Host Family Programs have been a vital part of the success for nearly every team, both on and off the field. For many host families, their player becomes more than a guest – they become part of the family. In doing so, it allows these young men to stay grounded and comfortable in an unfamiliar city.
The Bristol Blues need local fans and families to become a major part of our team for this coming baseball season. Players will arrive at the end of May and need homes until the beginning of August. The Blues rely on the generosity and support of quite a few host families. Would you and your family enjoy getting to know our players? If so, our Host Family program might be perfect for you. Experience memories that last a lifetime,
become a Bristol Blues host family today!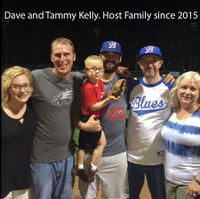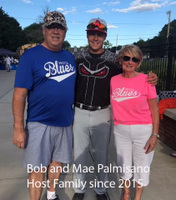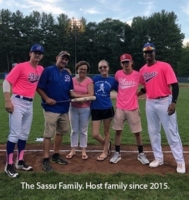 What Do Our Players Need?
* A clean private bedroom, access to a bathroom and a laundry room (they'll need to use showers and do laundry occasionally).
* Food - the team provides snacks pre-game and meals post-game. Host families should supply breakfast and lunch items,
drinks and snacks. You'll have contact with your player and his family prior to his arrival to know his preferences.
*A parking place if your player comes with his car. If they do not have a car,
you will not be responsible to provide them transportation. The team is responsible for this.
* And of course, a family to cheer them on.
*You will also need to commit to the full season. This means that you are willing to accept a new player if at any time
throughout the season, your player leaves the program for any reason.
Host Family Benefits
* Season passes for the entire family (must live in the household).
* 20% discount off merchandise and concessions
* Host Family Appreciation Night - Food and drinks in the picnic area, each family throws out a first pitch to their player,
and special gift presentation. Date to be announced.
* Stipend - a small stipend, to help cover the cost of hosting will be provided mid-season.
* Host Family Dugout Night - Enjoy the game with other host families from the dugout suite.
Includes one (1) food and one (1) beverage per person. Date to be announced.
* Host Family Tee Shirts - Sport an official Blues Host Family Tee.
* Receive All Giveaways even if you are not at the game.
* Host Family Highlighted - upon your approval, your family will be highlighted on the
back of the stat sheets for home games.
If you are interested in becoming a Host Family, or have any other questions,
please contact our Host Family Coordinator:
Thank you for supporting the Bristol Blues Baseball Club!!