Host Families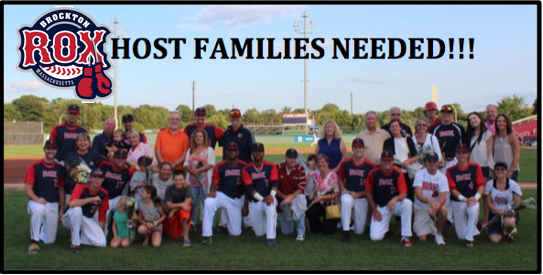 The Brockton Rox are currently gearing up for the 2020 Baseball season, and would love for you and your family to be part of our team. We are looking for families that have young little league players, or possibly, empty nesters that have the room to host one of our Future Collegiate League players for the 2020 season.

Host family accommodations are a long-standing tradition in minor league baseball as players pursue their dreams of playing in the Major Leagues. Host families provide a sense of stability, a home-away-from home, and best of all, the opportunity to form a life-long connection & friendship.

What are the benefits?

You will have the opportunity to make a positive impact on the future of a young baseball player
Each member of your immediate family will receive FREE season tickets to all Rox home games
Discount off of any ROX apparel
Cash stipend per household per player
Host family appreciation night at the end of the season
You may just get to know a future Major League Ballplayer!!!

For further information, please email [email protected], or contact the Brockton Rox front office at (508)-559-7000.