News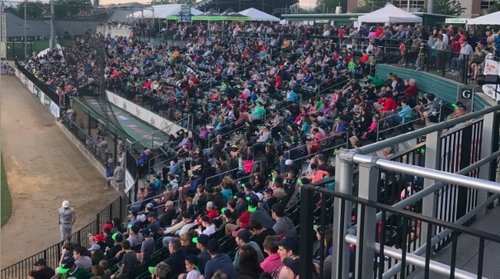 The Bravehearts opened their season with a 4-3 win over the Bristol Blues. On a crystal clear night perfect for baseball, this year's team came through when it counted most, much to the delight of the sellout crowd at Hanover Insurance Park at Fitton Field.
Billy Devito started the game for the Bravehearts, making his FCBL debut. Devito was steady, pitching five innings, allowing only one earned run on two hits. Devito also walked two batters and struck out seven. Josh Walker got the win in relief, giving up one hit and striking out
four during two innings of work.
Centerfielder Trevor Jensen had himself an impressive night as well, going 2 for 3 at the plate with a double and an RBI. Jensen is a junior for the Tulane University Green Wave, and if today was any indication, the 6'2'' outfielder is poised for an All-Star caliber season with the Bravehearts.
Franklin, MA native Bryan Hart was named player of the game, after going 1-3 at the plate, hitting a towering solo home run over the left field fence toward I-290.
"Tonight was fun," said Manager JP Pyne. "It was a great crowd and a great atmosphere." Pyne was very complimentary of Bryan Hart, as well. "That was a big hit in a big situation. He's very athletic, he's a guy who can run, and in a situation like that, I am very happy for him and very happy for us. It's a great swing and a big hit, and we needed that tonight."
The Bravehearts will play again Saturday, June 3, against the Wachusett Dirt Dawgs at Hanover Insurance Park at Fitton Field. First pitch is at 7:05 PM. The team will be celebrating the 129th anniversary of the famous poem "Casey At The Bat," that was written in Worcester, with a free t-shirt giveaway to the first 500 fans in attendance.