News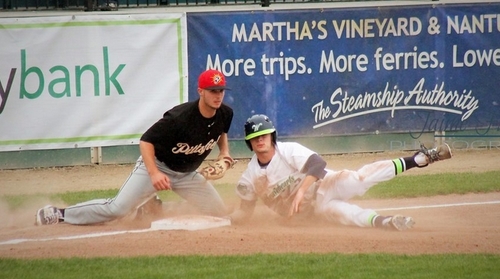 Worcester, MA — What began as gloomy day weather-wise ended even more gloomy for the Bravehearts and their fans, as the team fell to the Pittsfield Suns, 8-2. The Bravehearts dominated for most of the game, but as the rain fell harder, momentum shifted in Pittsfield's favor, culminating in a seven run explosion for the Suns.
Jakob Barker started the game on the mound for the Bravehearts and was strong through six innings, allowing only one earned run on five hits. Things took a turn when Matt Geoffrion took over for Barker halfway through the sixth with the bases loaded. After walking the first batter he faced, Geoffrion gave up a grand slam home run to Pittsfield's Scott Holzwasser, giving the Suns a 7-2 lead.
There were a few bright-spots in today's game, however. Designated hitter Joe Caico crushed a solo home run over the center field wall and Tulane infielder Trevor Jensen continued his hot start to the year, going 2-for-4 at the plate, pushing his hitting streak to three consecutive games. On defense, shortstop Tom Walraven made a highlight reel-worthy play, throwing out what would have been the game tying run at home plate with the bases were loaded.
Despite the loss, DH Joe Caico wasn't worried about the team.
"One bad inning you know? Just tough luck," he said. "I thought we swung good, our pitchers did well today, we need to bounce back. We got a big week starting off in Martha's Vineyard, so we got to bounce back tomorrow and get some runs."
The Bravehearts embark on a two game road trip, beginning tomorrow with a 6 o'clock game against the Martha's Vineyard Sharks, followed by a morning game in Brockton against the Rox. The Bravehearts play their next home game on Wednesday, June 7, against the Seacoast Mavericks. First pitch is at 10:30 AM.