News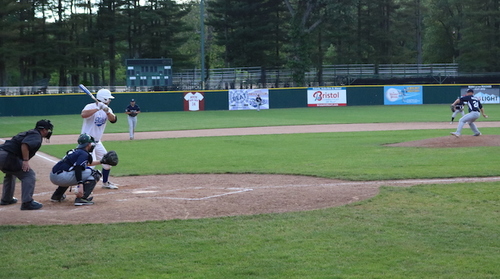 Bristol, CT— After 9 straight losses against the Bravehearts, the Bristol Blues are starting to think they have Worcester's number.
Bristol's Chris Davis came through with a 2-out, 2-run double off Worcester pitcher Tyler Lonestar in the bottom of the ninth inning to plate two runs and defeat the Bravehearts 6-5. It was the second game in less than a week in which the Blues came back in the 9th inning to defeat the Bravehearts— this time it happened at Muzzy Field. Bristol's Mitch Williams hit the go-ahead home run on Sunday in Worcester when the team was down to their final strike.
Davis' double ruined an otherwise fine outing by Worcester's Tyler Lonestar (Saint Mary's) who came out of the bullpen in the 6th inning and pitched 3 2/3 efficient innings while keeping Bristol off the scoreboard until the end.
The Bravehearts came from behind themselves in the 8th inning when catcher Brett Coffel (Saint Leo) and second baseman Mariano Ricciardi (Florida Atlantic) came up with the clutch hits. With one out, Joe Caico (New Haven) reached on a slow roller to second that Bristol infielder Max Goione threw errantly past the first baseman, allowing Caico to reach second base. A groundout moved Caico to third, and with two outs Coffel ripped a gap shot into right-center field that scored the tying run. With Coffel on second, Mariano Ricciardi then hit a liner to third base that popped up from the lip of the infield grass and ricocheted off the glove of Bristol third baseman Mark Tumosa, driving in the go-ahead run.
Bristol's Jake Frasca hit a 3-run home run in the 5th inning off Bravehearts' starter Sebastian Gruszecki to give them their first lead of the game. In his debut, Gruszecki (Florida Gulf Coast) pitched 5 innings while giving up four runs on five hits and striking out three.
"I went out there and started pounding the strike zone," said Gruszecki - a Dudley, MA native. "Everything was going well, our team got us some run support in the first two innings, and then just that one pitch in the 5th allowed them to take the lead."
Worcester's Greg Kocinski hit a towering solo home run over the right field fence with two outs in the third inning. With his 2-for-5 day, Kocinski is now 7 for his last 11 at bats and is hitting a blistering .500 on the season.
The Bravehearts return home for a game tomorrow night at 7:05 against Martha's Vineyard. It's Spags Night at Hanover Insurance Park, and the first 1,000 fans will receive a Spag bobblehead courtesy of NAL'S Paint.