News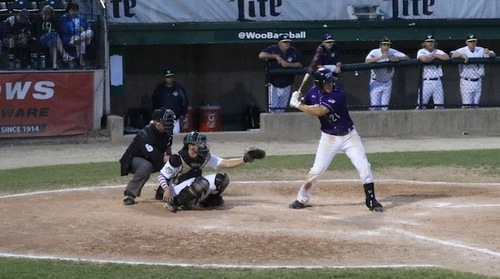 Worcester, MA- The Martha's Vineyard Sharks took a trip into Worcester on Spag's night at Hanover Insurance Park. However, the long trip did not seem to affect the Sharks as they pulled out a 3-1 victory over the Bravehearts.
After getting off to a quick start scoring a run in the first, the Worcester bats were held quiet the rest of the night. The Bravehearts managed just four hits after the first inning and could not bring another run to the plate.
Jack Hodgson proved to be a quality starter for Worcester. The righty went five and two thirds innings giving up only one run despite allowing nine hits. Hodgson pitched out of multiple jams to keep the Bravehearts in the game early. The Boston College freshman credited his success to an increased pace with command of his fastball. Hodgson also was able to get hitters out early in counts, which he believed was another reason for his strong outing.
The Bravehearts managed to keep the game tied until the seventh inning. The Sharks loaded the bases before Luke Johnson scored on a passed ball. Bravehearts reliever Cody Laweryson managed to get out of the inning with only one run allowed, however he received the loss despite striking out all three outs in the inning. The Sharks managed another run in the ninth after a base hit by left fielder Blake Frampton.
Worcester right fielder Trevor Jensen received player of the game honors after a 2-4 day at the plate. Jensen was one of the few bright spots in the Bravehearts lineup, recording two of the five Worcester hits.
"I got a couple good pitches to hit and put some good swings on them," said Jensen, who has emerged as a consistent bat in the Bravehearts lineup early on.
The Worcester Bravehearts will travel to North Shore tomorrow night to play the Navigators. They look to break a two game losing streak against their Eastern Division opponent. First pitch will be at 7:00 in Lynn, MA.