News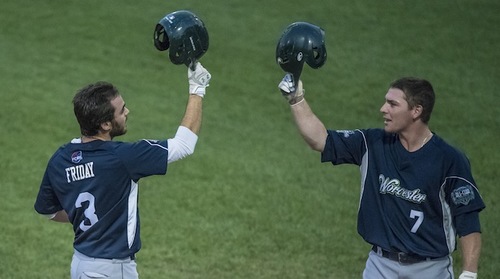 Nashua, NH- The Worcester Bravehearts came into Nashua looking to break out of a miniature slump. They had lost their previous two games and needed a spark from someone. Billy Devito seemed to be the perfect candidate to change things around for Worcester. Devito lead the Bravehearts to a 3-0 victory over the Nashua Silver Knights in Holman Stadium.
Billy Devito came into the game with an 0.81 ERA and looked to continue his summer ball success. The Junior from University of Hartford did just that. The righty went seven innings, allowing only three hits while recording six strikeouts. Devito was in a pitchers duel with fellow Silver Knights starter James Muse who went six innings giving up only one hit and one run while striking out seven Bravehearts.
"Throwing fastballs, throwing fastballs past guys. That was the key," explained Devito, who said he only threw about two breaking balls to the top part of the Silver Knights order.
On the offensive side however, the Bravehearts bats were cold early on. Worcester did not record a hit until the sixth inning, but finally got one when they needed it most. Dante Ricciardi led off the sixth inning with a walk, followed by a sacrifice bunt by Trevor Johnson. A fly out to right field by Tom Walraven brought Ricciardi over to third base. Joe Caico recorded his team leading 15th RBI of the season bringing home Ricciardi to take a 1-0 lead.
The Bravehearts offense carried the momentum into the later innings. Worcester continued to play small ball after Bryant Hart led off the 8th inning with a walk. Ricciardi was this time on the giving end of a sacrifice bunt, getting Hart to second. After a passed ball, advancing Hart to third, Trevor Johnson continued to be the ideal teammate. Johnson sacrificed himself on a fly ball to left allowing Hart to score the second Bravehearts run.
It wasn't long before Worcester struck again. Tom Walraven hammered the baseball over the left field brick wall for his first home run of the season on the very next at-bat. Walraven also made multiple stellar plays in the field to help out Devito.
The Worcester Bravehearts will be back at Hanover Insurance Park tomorrow for a matchup against the North Shore Navigators on Father's Day. Come early, and sign up for a chance to win a new car if the Bravehearts hit a grand slam in the seventh inning!