News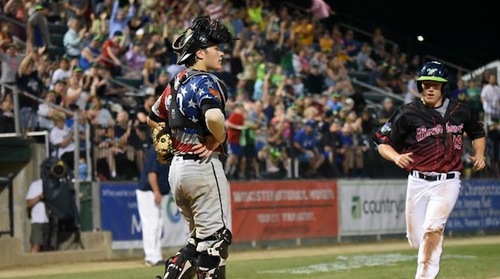 Worcester, MA — Last season's heartbreaking home loss against the Nashua Silver Knights in the FCBL championship game loomed large for the Bravehearts leading up to Friday's rematch at Hanover Insurance Park. The Bravehearts' got their revenge in the sweetest way possible: a Trevor Jensen walk-off hit in the bottom of the ninth, driving in the winning run from third base for a final score of 4-3. The Bravehearts improved to 10-8 on the year with the win, their third in a row.
Starting pitcher Jack Hodgson delivered a strong performance against a potent Nashua lineup. He allowed only three hits and two runs through five innings and struck out five batters in the process. University of Maine's Cody Laweryson, who started the ninth inning, was awarded the win as he struck out two batters and allowed only one hit in a clutch performance.
With one out and a runner on first, Nashua elected to intentionally walk Dartmouth's Trevor Johnson, bringing up Mariano Ricciardi who also drew a walk, loading the bases. Trevor Jensen stepped to the plate and hit a flare to shallow right field that landed inches from the foul line, much to the delight of the sold out crowd at Hanover Insurance Park. The hit was shockingly similar to his game winner against the Wachusett Dirt Dawgs earlier in the season.
"It's tough to have two walk-offs in a year," said Jensen. "Going into the dugout in the bottom of the ninth we all felt we could do it. You could feel the energy going through everyone and as soon as the first guy got on we were like 'we're gonna do this','' he said.
The Bravhearts look to keep their winning streak alive Saturday night against the Bristol Blues at Muzzy Field. They continue their road trip with a game in Leominster against the Wachusett Dirt Dawgs on Sunday, before returning to Worcester for a June 26 game against the Brockton Rox.