News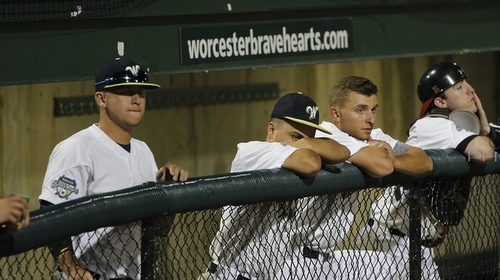 Bristol, CT — Looking to continue their three-game win streak on the heels of a walk-off win on Friday night, the Bravehearts looked poised to win their fourth straight, but fell short as the Bristol Blues came from behind for the second time in as many nights in a 5-4 final. With the loss, Worcester drops to 10-9 on the season.
After a quick first inning, the Bravehearts took over the game for the next 4 innings behind another stellar outing from Hartford product Billy DeVito, who entered the game leading the FCBL with a 0.50 ERA. Worcester would take the lead in the second inning on a throwing error by the Bristol shortstop that allowed Tulane product Trevor Jensen to score after a leadoff double and an RBI groundout by Northeastern's John Mazza that plated John Friday, a senior at Franklin Pierce. The third inning saw Maine product Kevin Doody score on a wild pitch, while Joe Caico of New Haven singled to knock in Mazza in the fourth.
Momentum began to shift against the Bravehearts in the bottom of the sixth, however, as the Blues struck for two runs off of Billy DeVito. Bristol would strike for 3 more runs over the course of the next two innings to take the lead for good in the eighth inning behind timely hitting and shaky defense from the Bravehearts.
Despite the loss, the Bravehearts did have a few noteworthy performances on the night. Billy DeVito dominated for much of the game, pitching 6.1 innings, while giving up just 3 runs and racking up 11 strikeouts. Right fielder Joe Caico led the Worcester offense, going 2-5 with an RBI single.
The team looks to bounce back against its West Division rival, the Wachusett Dirt Dawgs, on Sunday, June 25, in Leominster. The Bravehearts will return to Hanover Insurance Park for a 7:05 PM game against the Brockton Rox on Monday, June 26.