News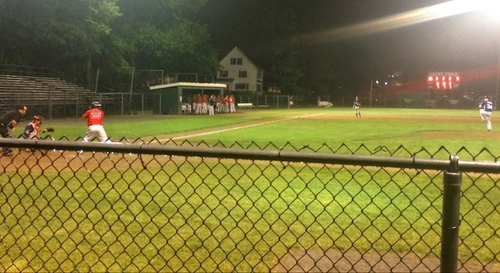 Portsmouth, NH- The Worcester Bravehearts took a trip to Portsmouth, NH to start their long road trip. They looked to start the trip off with a win. Unfortunately, Worcester fell 7-4 against the Seacoast Mavericks.
Seacoast was able to get on the board first without much use of their bats. Second Baseman Jimmy Palmer was able to reach after an error by Mariano Ricciardi. A single by Mike Goodrich advanced Palmer to second. After an error on the pick-off attempt allowed him to go to third, Palmer then scored on a wild pitch.
Seacoast had their share errors in the field as well. After John Friday started off the fifth inning with a base hit up the middle, Brett Coffel and Bryan Hart both reached on errors by pitcher Logan Dubbe. The righty out of Washington College threw to the left of second base allowing Friday to go to third. On the next at-bat, Dubbe threw to the left of third basemen DiFillipo attempting to get Friday out at third. The error allowed Friday to score and Coffel to advance to third. However, Friday was the only Braveheart to cross the plate in the inning as it remained tied 1-1.
Barker managed to throw his best pitches when he needed them most. After loading up the bases with no one out in the fifth inning, he got Tyler Solomon to fly out to the shortstop Trevor Jensen. He then got Ben Irvine to ground into the famous 3-2-1 double play to end the inning.
Barker's day was done after 5 complete innings. Although his outing was not very long, he was effective. The righty gave up only 5 hits while striking out 6 and allowing three walks. His opponent Logan Dubbe countered with a 6 2/3 inning performance giving up 3 runs on four hits while striking out 5 Bravehearts.
Seacoast did not waste any time scoring on reliever Matt Geoffrion in the sixth. After a strikeout, a fielders choice left Julian Bury on first. It seemed Geoffrion would get out of the inning with ease, however a wild pitch followed by an RBI single by Jimmy Palmer allowed the Mavs to take a 2-1 lead.
Worcester came right back in the top of the seventh to re-take the lead. A single by Friday led off the inning and then Brett Coffel reached on an error. After a Bryan Hart fly out and Ricciardi strikeout, Trevor Johnson came up with a clutch hit. Johnson ripped a single up the middle scoring both runs and giving the Bravehearts a 3-2 lead.
The Bravehearts' bullpen woes continued into the seventh as Seacoast batted around in their order. Tyler Lonestar entered the game looking to protect a 3-2 lead. With one out and A.J. DeFillipo on first, Seacoast manager Jhonneris Mendez sent pinch hitter Steve Octave to the plate. Octave took a Lonestar fastball over the left-center field fence to give Seacoast a 4-3 lead.
The damage was not fully done as Edison Cabrera singled followed by a steal of second and a passed ball allowing him to third. A controversial balk call brought in a fifth Maverick run and brought out J.P Pyne for a conversation with the umpire. The Seacoast pounding continued as the Mavs hit four consecutive singles allowing Chris Kanois to score the sixth run of the game.
Jack Owens allowed another run in the eighth extending the Seacoast lead 7-3. Bravehearts pitching coach Casey Cummins expressed confidence in his bullpen despite the poor effort.
"We have a lot of confidence in our guys— it just didn't work out tonight," said Cummins. Cummins also confirmed they would continue to use Lonestar despite his recent struggles. "He's one of our guys, were going to go right back to him," said the Bravehearts pitching coach.
Worcester threatened in the ninth but came up short. Bryant Hart scored on a single from Johnson, but that was the only offense the Bravehearts could get. Worcester loaded the bases for Greg Kocinski, who grounded into a double play to end the game.
Worcester continues their road trip tomorrow in Pittsfield against the Suns. First pitch is at 7:05