News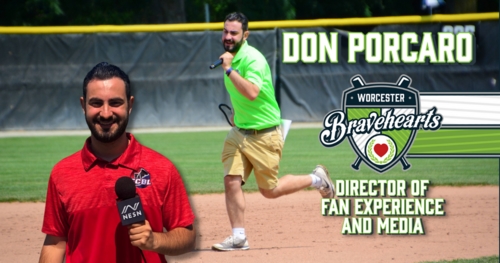 The Worcester Bravehearts have promoted Don Porcaro to a full-time position with the team as the Director of Fan Experience and Media.


Porcaro, a Worcester-native and Suffolk University alum, began working with the team as an intern during the summer of 2017. He has primarily worked in the press box, splitting duties on the broadcast and production teams. In his new role, Porcaro will handle all of the team's media relations and social media while expanding his role at Fitton Field and in the community with fan interaction. He will develop the game script of on-field promotions, manage the Fan Assistance tent on the concourse, and lead offseason community relations efforts with the team's mascot, Jake the Lion.

"To have a talented professional like Don Porcaro join our team on a full-time basis is certainly a boost to the Bravehearts," said General Manager Dave Peterson. "Donny brings dynamic ideas to the office each day, and he has really diversified his knowledge of the sports industry by seamlessly jumping into a different role each season he has worked with us. He is an asset to the Bravehearts and the Futures League because of his desire to expand the fan base through new broadcast technology, new on-field promotions, and of course his appearances on NESN."

Porcaro has been featured as the play-by-play broadcaster on 7 Futures League games carried by NESN in 2020 and 2021. He also previously broadcast Bravehearts games on WTAG with retired-Boston sports anchor Bob Lobel in 2017. He graduated from Suffolk University in 2020 with a degree in Broadcast Journalism.

"I am extremely excited to expand my role with the Worcester Bravehearts to a full-time position," said Porcaro. "As someone who grew up in Worcester, I can't wait to help the community fall in love with the game that inspired me to enter the sports industry. I am very proud to work for an organization that puts the fans and community first. During my time with the team, I hope to provide real-world training for young students looking to enter the sports industry as well as give fans a unique and entertaining experience when attending Bravehearts games and events."

Fans can reach Don Porcaro at [email protected] or by calling 508-438-3773.