News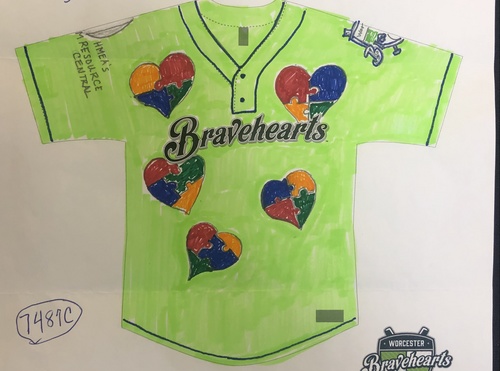 Worcester, MA- For the first time in franchise history, the Worcester Bravehearts will be donning a jersey that was created by a fan. Back in early April, the organization held a create-a-jersey contest in partnership with
HMEA's Autism Resource Central
where fans had the opportunity to design a Bravehearts jersey. Beating out 50+ entries, it was Gloversville, NY native Thomas Dona's artwork that was selected as the winner. Dona's son Aaron is a starting pitcher on the Bravehearts.
The lime green jersey includes the familiar Bravehearts word mark across the front, and is dotted with five hearts on both the front and back. The hearts are comprised of puzzle pieces, which have been associated as the primary symbol of autism since 1963.
"We picked the shirt because the hearts show the love for people with disabilities, and the hearts are the colors for Autism." said Family Activities Coordinator Cid DeLeo of HMEA Autism Resource Central. "The color green for the Bravehearts, showing their acceptance of people with disabilities. Out of all the entries this shirt really struck me as the right shirt."
The artist, Thomas Dona, has previously helped in his hometown by designing little league uniforms, signs and even wedding invitations. While not a professional designer, Dona has a passion for baseball and art which inspired him to create this jersey.
"I love the game of baseball, and I've always been artistic." said Dona, winner of the jersey contest. "I was a bit surprised that I won, and having a son on the team makes this even more special. Let's have a fantastic game recognizing autism awareness!"
These jerseys, which will be worn during Sunday's game against the Nashua Silver Knights will then be auctioned off with all proceeds going to HMEA Autism Resource Central. First pitch between the Silver Knights and Bravehearts is scheduled for 4:05pm. Thomas will throw out the ceremonial first pitch, while his son Aaron will be the starting pitcher for the contest, wearing the jersey that his father created.