News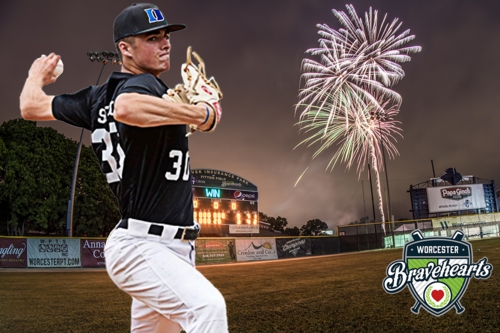 Worcester, MA- The Worcester Bravehearts continued their 2021 roster reveal with the announcement of 10 more players, all of whom will be playing at the Division 1 level.
One of the biggest names joining the Bravehearts this summer will be Jonathan Santucci (Leominster, MA/Phillips Academy). He is ranked as a top-60 recruit in the country and 2nd overall in the state of Massachusetts. The outfielder/left-handed pitcher is committed to Duke University and he was named a Perfect Game Underclass All-American in 2019 and 2020. Santucci's head coach at Duke, Chris Pollard called him "Without a doubt, one of the most talented players in the country." Worcester baseball is in the Santucci bloodline, as Jonathan's cousin Nick Santucci was a key member of the 2017 Bravehearts, and his father Steven was a 2-year captain of the Assumption College baseball team, holding the single-season stolen base record.
One of the local D1 talents being showcased this summer is Max LeBlanc (Sharon, MA/ Sharon HS). A 6' 6" right-handed pitcher at UMass-Amherst, LeBlanc joins former Bravehearts Jack Steele and Aiden Wilde as the most recent players to play for both the Minutemen and the Bravehearts. LeBlanc has appeared in 7 games this season for UMass, starting three.
Outfielder Kenny Mallory (Lawrenceville, GA/ Mountain View HS) and right-handed pitcher Miles Langhorne (Greenwich, CT/ Greenwich HS), will be the newest members to come through the Bravehearts and Vanderbilt Baseball pipeline. Mallory, who could also be used as a pitcher, is ranked as the 4th best outfielder in Georgia by Perfect Game. Langhorne is a 2021 Perfect Game Preseason All-American and is the top ranked player in Connecticut.
Right-handed pitcher Andrew Ruggiero (Swansea, MA/Providence Country Day HS) will bolster the Bravehearts pitching staff. The sophomore appeared in 4 games last season and earned a win against Missouri State before the COVID-19 shutdown. Ruggiero currently holds a 1.69 ERA for the Maine Black Bears this season.
Nic Britt (Chesapeake, VA/Greenbrier Christian Academy), a freshman infielder at William & Mary, was named First Team All-State in high school and was named to the Rawlings Top Prospect List. In his first-ever collegiate at-bat, Britt launched a three-run home run for the Tribe.
A pair of Division 1 outfielders will join the 'Hearts this Summer in Tayven Kelley (Boiling Springs, PA/Boiling Springs HS) and Gavin Noriega (Bronx, NY/Salesian HS). Kelley is a sophomore at Penn State. In high school he was a four-year team captain of the baseball team and is currently a regular starter for the Nittany Lions, hitting .280. Noriega is a freshman outfielder at Marist College, where he is teammates with former Braveheart Ben McNeill.
The Bravehearts hope to continue their recent success of pitchers from Boston College with left-hander Matt Nunan (Egg Harbor Township, NJ/ Ocean City HS). The future BC Eagle will get a chance to play with his future teammate Luke Delongchamp in Worcester before they depart for Chestnut Hill in the fall.
Rounding out the Division 1 players is Frank Mozzicato (Ellington, CT/ East Catholic HS) . A 6'3" lefty with a mid-90s fastball, Mozzicato will bring some power pitching to the 'Hearts staff as an incoming freshman.