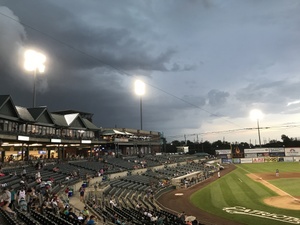 (July 17, 2019 – Bridgewater, NJ): Wednesday night's scheduled game between the York Revolution and Somerset Patriots was postponed due to rain and thunderstorms at TD Bank Ballpark. The game was called with York leading 3-2 after two innings of play. The two clubs will play a doubleheader featuring a pair of seven-inning games beginning at 11:05 a.m. on Thursday.
York had opened an early lead against league ERA leader David Kubiak. Telvin Nash worked a two-out walk in the top of the first, and Isaias Tejeda launched what would have been his ninth home run of the season, all in the last 10 games, and eighth in eight games on a two-run blast to left field.
The Revs added a run in the top of the second as Justin Trapp led off with a double down the left field line and Alvaro Rondon cranked an RBI triple down the right field line with one out, increasing the lead to 3-0.
The Patriots battled back with two runs in the bottom of the second on a Craig Massey RBI triple to right-center and a run-scoring ground out by Mike Crouse, drawing within 3-2.
Somerset had taken the field for the top of the third inning when skies opened and the tarp was rolled out with the game later officially called.
York righty Dan Minor (5-4, 4.39) will start Thursday's opening game opposite Somerset left-hander Brett Oberholtzer (7-1, 3.45). Revs fans can catch the action live on SportsRadio 98.9 FM & 1350 WOYK, 989woyk.com, The New WOYK app, and WOYK on YouTube beginning at 10:55 a.m. with Darrell Henry on the call.