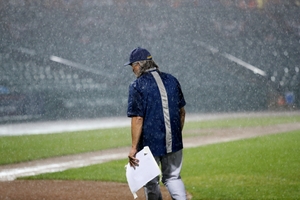 (July 6, 2019 – Lancaster, Pa.): Saturday night's scheduled contest between the York Revolution and Lancaster Barnstormers was postponed due to rain at Clipper Magazine Stadium. The two teams will play a doubleheader on Sunday afternoon with a pair of seven inning games beginning at 1:15 p.m.
York trailed 3-1 in the second inning when play was halted. After waiting for roughly an hour and 20 minutes, the game was called resulting in just the Revs' third rain out of the season but second in the last three days.
The Revs remain one game back in the Freedom Division first half race, as Sugar Land's game at New Britain was also postponed. The Revs need a sweep of Sunday's doubleheader, a victory in a first half makeup game at Southern Maryland from Thursday's rain out, and a Sugar Land loss at New Britain on Sunday in order to complete a historic comeback over the past month and win the first half.
York will go for a franchise record ninth straight victory in Sunday's opener as lefty Ian Thomas (3-0, 2.83) faces Lancaster's John Anderson (5-4, 4.63). Revs fans can catch the action live on SportsRadio 98.9 FM & 1350 WOYK, 989woyk.com, The New WOYK app, and WOYK on YouTube beginning at 1 p.m. with Darrell Henry and Brett Pietrzak on the call.