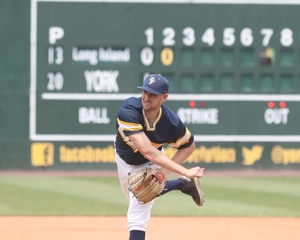 (June 7, 2019 – Bridgewater, NJ): A two-run homer in the fifth provided the only scoring of the game as the York Revolution fell to the Somerset Patriots 2-0 on Friday night in front of 6,581 fans at TD Bank Ballpark.
Revs starter Duke von Schamann matched zeroes with Patriots starter Liam O'Sullivan into the fifth inning, but after a two-out walk to Mike Crouse, Mike Fransoso lined a two-run home run to right for a 2-0 Patriots lead.
One night after tying a season-high with seven extra-base hits in a shutout victory at High Point, the Revs were held to just six hits, all singles, in the shutout loss.
O'Sullivan (2-3) worked seven innings to snap his personal three-game losing streak, allowing six hits with one walk and five strike outs.
von Schamann (0-1) was strong for the Revs in defeat, allowing just the two runs while scattering eight hits, seven of which were singles, over 5.2 innings. He walked only one and struck out two.
Mike Broadway handled a 1-2-3 eighth and Mike Antonini retired the side in order in the ninth for his league-leading 15th save.
York's bullpen was also stout in keeping the game close. Lefty Orleny Quiroz entered with two on and two outs in the sixth, and after a walk to Will Kengor that loaded the bases, retired Craig Massey on a ground out to third. Robert Carson took care of a perfect seventh inning, and Ian Thomas worked around a pair of singles and a walk in a scoreless eighth.
The Revs also flashed some terrific defense. von Schamann escaped the Patriots first threat of the game in the second inning by way of an 8-6-4-2-5 rundown play which came after Melky Mesa ran down a Massey drive toward left-center earlier in the inning. Second baseman Alexi Casilla made a full-stretch diving catch to start a double play on Yovan Gonzalez' bloop liner in the third. Third baseman Angelys Nina made a full extension diving snag on an Alfredo Rodriguez liner in the fourth and also started a double play that inning. von Schamann picked off Kengor after a leadoff single in the fifth, and catcher James Skelton threw out Ramon Flores on an attempted steal after an infield hit in the eighth.
Notes: Fransoso's home run was just his second of the season and fourth in two years in the Atlantic League. It was only Somerset's 15th as a team in 40 games, and just their fourth in 22 games at home. Casilla had a season-best seven-game hitting streak snapped. Revs starting pitchers have now allowed three earned runs or fewer in 29 of 41 games including 14 of the last 19 contests. Somerset wins its fourth in-a-row. The Revs will look to end that streak in the middle game of the series on Saturday night as righty Corey Walter (0-1, 5.59) squares off with Somerset southpaw David Holmberg (0-1, 3.38) at 7:05 p.m. Revs fans can catch the action live on SportsRadio 98.9 FM & 1350 WOYK, 989woyk.com, The New WOYK app, and WOYK on YouTube beginning at 6:45 p.m. with Darrell Henry on the call.