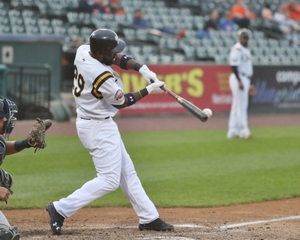 (May 18, 2019 – Sugar Land, TX): Melky Mesa homered and drove in two but it was the only scoring for the York Revolution in a 3-2 loss to the Sugar Land Skeeters on Saturday night in front of 5,754 fans at Constellation Field. The Revs drop to 2-4 on the visit to Texas and will look to salvage Sunday's finale before returning home to start a seven-game homestand Monday evening.
York struck first with a run in the top of the second. Isaias Tejeda led off the inning with a double to right-center and advanced to third on a ground out by Henry Castillo. Mesa took advantage of a partially drawn-in infield with an RBI single to right-center, spotting York a 1-0 lead.
The Skeeters rallied in the fourth to take the lead for good. Juan Silverio led off the inning with a double off the base of the wall in left but was tagged out trying to advance on a ground ball. His baserunning miscue did not cost his team, however, as Cody Stanley followed with a double down the right field line to set the table. After starter Mitch Atkins notched a clutch strike out of Denis Phipps, Ryan Jackson sprayed a two-out, two-run single into shallow right to put the Skeeters ahead 2-1.
That was the only damage afforded by Atkins (1-2) who moved into sole possession of fifth in Revs history with his 15th quality start in a York uniform, but suffered the loss. Four of his eight hits allowed came in the fourth inning. He walked none and struck out six.
York had a golden opportunity to answer in the sixth. James Skelton worked a leadoff walk and Alexi Casilla singled to right, forcing the exit of Skeeters starter Mitch Talbot (1-2). Telvin Nash ripped a single into left against reliever James Dykstra to load the bases with no outs. Dykstra induced a 1-2-3 double play ball off the bat of Tejeda, however, and after an intentional walk to Henry Castillo, retired Mesa on a fielder's choice to escape with no runs scoring.
Sugar Land plated an insurance run off reliever Jameson McGrane in the seventh. Willy Taveras fought his way on with a full-count leadoff walk to start the inning and stole second base. McGrane retired the next two batters, but Silverio jumped on the first pitch and drove an RBI double to right-center to make it 3-1.
Mesa launched his second home run of the season, a solo shot to left field with two outs in the ninth, but closer Felipe Paulino recorded a game-ending strike out to secure his fifth save.
The Revs offense was stymied in large part by hitting into four double plays in the game, a season-high.
York righty Matthew Grimes (1-1, 1.16) faces Sugar Land right-hander Konner Wade (0-2, 4.29) in Sunday's series finale at 3:05 p.m. ET. Revs fans can catch the action live on SportsRadio 98.9 FM & 1350 WOYK, 989woyk.com, The New WOYK app, and WOYK on YouTube beginning at 2:45 p.m. ET with Darrell Henry on the call.
Notes: Ryan Dent made the 219th start of his Revs career at shortstop, breaking the club record previously held by Wilson Valdez (2014-15). McGrane's run snapped his personal four-game scoreless streak. Orleny Quiroz made his Revs debut with a scoreless eighth, as the lefty became the 37th different player and 25th pitcher (21st reliever) used this season. Casilla reached on an infield single in the eighth, the 56th infield hit of his Revs career breaking the franchise record previously held by Andres Perez. Castillo started in left field for the third time in his career; he made two starts in left field for Kane County as an Arizona Diamondbacks prospect in 2015. Tejeda's double was the 599th hit of his pro career; he is batting .393 over his last 15 games.