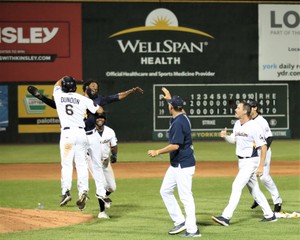 (July 22, 2021 – York, Pa.): Reliever Isaac Sanchez scored as a pinch-runner on a wild pitch in the bottom of the 10th inning as the York Revolution walked off the West Virginia Power for a 5-4 victory on Thursday night at PeoplesBank Park. The Revs have won back-to-back games and earn a series win against the Power and will now turn their attention to the Long Island Ducks who come to town Friday evening as the homestand continues.
West Virginia opened proceedings with two runs in the first as five of the first six batters reached against Revs starter Austin Nicely. Connor Myers walked to lead off the first. With one out, Teodoro Martinez singled to left and Myers scored on an infield hit from Rymer Liriano, a comebacker that deflected off Nicely on the mound. Alberto Callaspo worked a walk and Edwin Espinal drove in the second run on a line drive single to left for a 2-0 lead.
Nicely retired 10 of his next 11 batters and allowed no further damage through five innings of work.
York's offense was kept quiet until the fifth when things started to heat up. Darian Sandford collected a leadoff double to left and moved to third on a balk from Power starter Joe Harris. With one out, Jack Kenley hit a fly ball to left, deep enough to plate Sandford on a sac fly to cut the deficit in half at 2-1.
An inning later, York took the lead with two runs on a trio of hits. Nellie Rodriguez crushed a leadoff home run over the Arch Nemesis in left for the 2-2 tie. JC Encarnacion immediately followed with a pinch-hit double to left. With one out on the board, Osmy Gregorio collected his first hit with the Revs on a go-ahead single to right, scoring Encarnacion for the 3-2 advantage.
The Revs added an insurance run in the seventh. James Harris led off the inning with a triple to deep center. Melky Mesa drove in his fellow outfielder on a sac fly to right for the two-run lead at 4-2.
The Power were able to get to Revs closer Jim Fuller in the ninth. Pinch-hitter Nate Easley was issued a leadoff walk. Myers hit a line drive single to center to put runners on the corners with no outs. After a sac bunt from Scott Kelly put Myers in scoring position, Teodoro Martinez tied the game, 4-4, with a two-run single to center.
Eduardo Rivera (2-0) kept the Power off the board in the top of the 10th, stranding pinch-runner Vladimir Nival at third by retiring all three batters faced.
Andrew Dundon worked a leadoff walk for the Revs to start their half of the 10th, preceding a passed ball which advanced Dundon and Sanchez to second and third, respectively. With one out, a wild pitch from Emmanuel Rosario allowed Sanchez to sprint home with the winning run, as he circled back toward the right side of the infield as he was chased by teammates in celebration of the Revs' third extra inning / walk-off victory of the season.
York now welcomes the Ducks for a three-game weekend series. Friday's series opener features Austin Steinfort (1-3) starting on the mound for York. Anderson DeLeon (0-0) will make the start for Long Island. PeoplesBank Park hosts the Revs Olympics presented by UPMC. It is also Foodie Friday featuring Sliders with cheddar cheese, bacon, fried pickles, onion rings, and boom boom sauce and Fast Play Friday presented by PA Lottery. Tickets are available at yorkrevolution.com, 717-801-HITS, or in-person at the Shipley Energy Ticket Office.
Notes: The Revs had leadoff runners reach base in each of the first seven innings and nine of 10 innings total, and won despite going 1-for-18 with runners in scoring position on the night. Mesa saw an 11-game hitting streak snapped; it was tied for the Revs' second-longest of the season. The Revs improve to 3-1 in extra-inning games (all 10 innings), having won three straight (all at home). It was York's first extra-inning game since a 2-1 win vs. Lexington on June 19.