Press Releases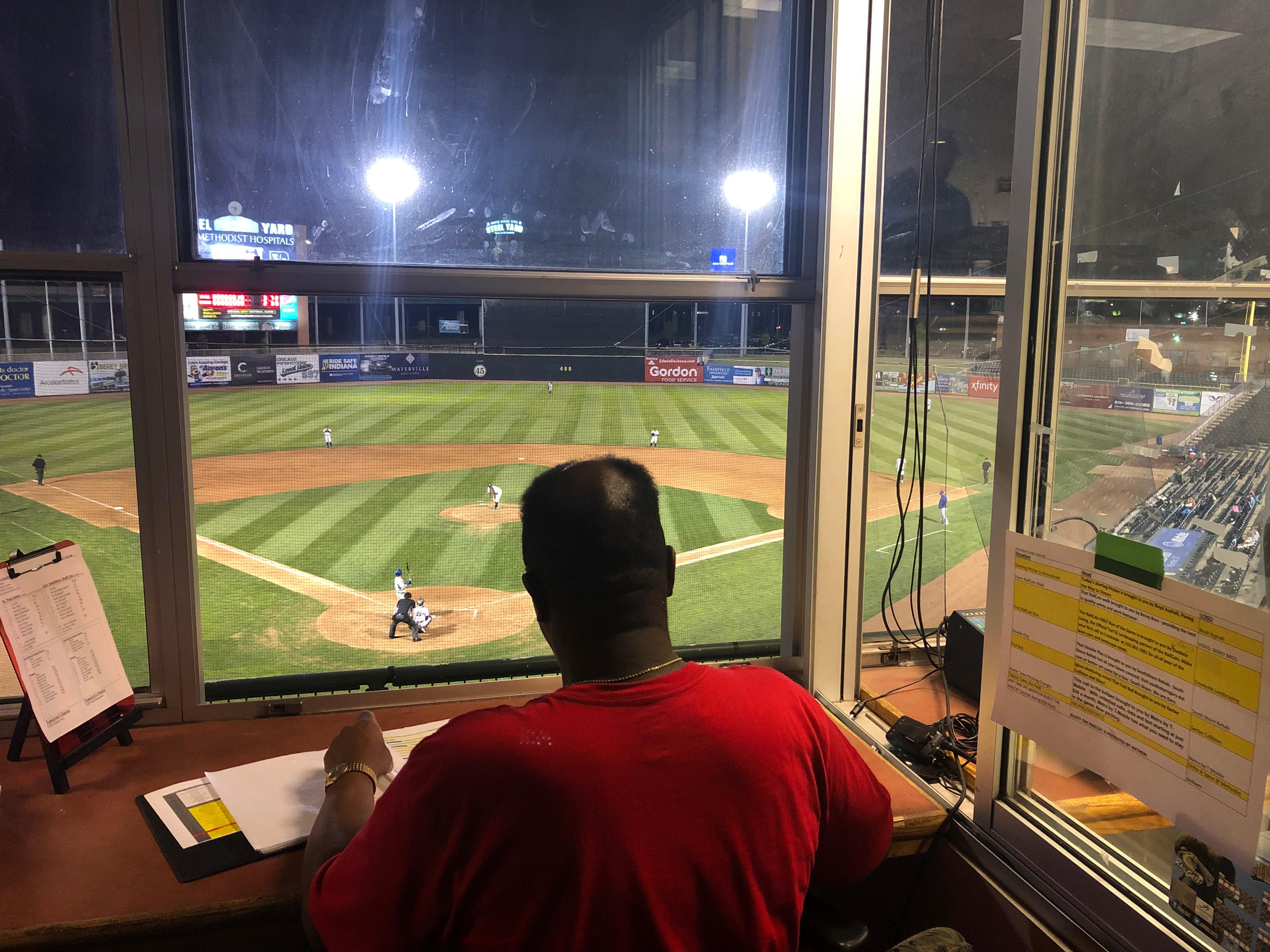 FOR IMMEDIATE RELEASE: September 1, 2019
CONTACT: Max Thoma
thoma1347@gmail.com
GARY, IND. — "People, people, people."
Three words. Technically one word, repeated three times.
Those words are synonymous with one man, one man who is in turn synonymous with one team.
Tommy Williams became the PA Announcer for Gary in 2003, the first year the RailCats played at U.S. Steel Yard. Williams, a local man who went to Roosevelt High School in 1975, remembers to this day driving down 5th Avenue and seeing the new ballpark for the first time. He had no idea it was built so close to his house. Only minutes later he was talking to Roger Wexelberg, the general manager at the time, inquiring about the play-by-play broadcaster position.
"They told me they found a guy to do play-by-play," Williams said. "But they said they needed a PA announcer and asked if I was interested. I said 'yeah', and if you told me I'd still be doing this 17 years later, I would've said no way because longevity of a job these days isn't exactly commonplace."
Williams was there on day one, May 26, 2003 as the RailCats welcomed in fans for the first home game in franchise history. A sellout crowd of 7,089 people walked through the gates that night and that matchup with the Schaumburg Flyers remains one of his favorite memories here.
"I'll always remember that first day," Williams stated with a smile on his face. "Like I said before, I didn't think being the PA was my gig. But I remember that first day they had me dress up in a tuxedo and standing right in front of home plate and welcoming people into U.S. Steel Yard for the first time ever. I'll never forget that."
From that day forward no one else has held the title of RailCats PA Announcer. But Tommy was a big deal even before he returned back to the city he calls home.
Williams landed his first radio job at WLTH Radio in his hometown of Gary in 1982 after graduating from Indiana University with a degree in broadcasting. However, he would eventually find himself working in Chicago for over a decade with 670 The Score. That is where he really made a name for himself.
"I worked there for 12 years… At first I was just a really bad producer," Williams said with a chuckle. "Then the final four-to-five years there I did part-time sports talk overnight weekend talk shows and then graduated to doing everyday nighttime stuff."
In fact, the man from The Region, who on air frequently said, "I like it when they call me Big Partner," was already a household name for his soon-to-be longtime partner in crime throughout the speakers of U.S. Steel Yard, Jason Yurechko.
"When I first started, they told me I was going to be working with Tommy Williams. I was like 'Tommy Williams? From The Score 670? The Big Partner guy?' This is perfect."
Yurechko has spent the last 16 years serving as the RailCats on-field host. He has been with the club for every season in which they've played here except that first one in 2003. They developed an instantaneous rapport, Yurechko the charismatic entertainer and Williams the man who brought nothing but the professionalism.

"Tommy's a sports guy, he's a Northwest Indiana guy, he's a region rat just like me," Yurechko said. "… We hit it off right away… I always tell people if you get two people from Northwest Indiana into a room, no one else is going to get a word in edgewise. So that's the best part about it here at the RailCats; they handed him a microphone and me a microphone and no one else is going to get a word in because we're going to have some fun."
Williams described having that microphone almost as if it were an addiction. He loves doing radio and PA work and while we've all come to know his 'Tommyisms' as we refer to them around here, the man is often at his best when goes unscripted.
In a game earlier this year vs. Saint Paul, the RailCats trailed by four runs in the bottom of the eighth, there was only one out though and the bases were loaded. The RailCats and their fans were looking for some late power, the only problem, the power was out.
Literally.
The lights in the stadium went out and amid confusion sprinkled with a little fear, there was Williams within a matter of seconds…
"We have now entered the twilight zone."
A light laughter could be heard throughout the crowd and whatever fear or confusion there was was replaced by a witty joke coming from the man whose powerful voice knows these fans and knows this game he loves.
Williams actually credits the RailCats for helping him fall back in love with baseball. And the 'Cats manager, who joined the team one year after Yurechko, was a catalyst for that love returning.
"Greg Tagert has been a joy to work with. I'm a fan of his and I'll tell you this, his teams go out there and hustle. I know they're not winning of late, but you're never going to see a RailCats player dog it. The only reason to ever get mad at a sports team is if the go out there and mail it in when they're doing bad; you'll never see a Greg Tagert team mail it in."
In Tommy's first few years with the club, the team was bad. Three straight last place finishes. Then came Tagert and that magical 2005 season, a season that for Tommy, would give him something he had always dreamed of.

Tommy Williams always wanted a championship ring. In high school he was, if you ask the man himself, "a terrible athlete." Then came a Sunday afternoon in September of 2005. A morning in which Williams woke up as nervous as he's ever been. The RailCats, after trailing the championship best-of-five series two-to-nothing to Fargo-Moorhead, had come back and tied the series up. The Redhawks had owned Gary all season long, but the 'Cats would take game five, winning the last three games of the series, all in Gary, Indiana and with it win their first championship.
"I remember Roger Wexelberg called me into his office and handed me this huge ring," Williams said. "And I told him, 'what the heck is this?' He told me that he was giving me a championship ring. That was one of the happiest days of my athletic life. To think that the team thinks that much of me to give me a ring, that's pretty cool."
Even amid all the championships and success that Tagert has brought and that Williams has been a part of, sometimes it's still the little things that strikes a chord with people.
"… the people that have laid the groundwork and really made the RailCats experience and environment special, it starts when you hear those words before the game at six o'clock and Tommy welcomes people into the ballpark," Tagert said. "He's synonymous with our ballclub. You go around to other stadiums and they all have their own signatures that make that place unique, well Tommy is certainly one of our signatures."
Williams has become such a part of the RailCats identity that you wonder how a RailCats game without him would look.
Bizarre, I imagine.
Which leaves me with two important thoughts.
The first of which is how long does he want to continue before he decides he wants to hang it up? The Big Partner is very spiritual and thanks God for putting him in this position in the first place. In fact, when we informed Tommy we were doing a story on him, after the first question, the first words out of his mouth were, "Well, let me first off say thank you to Jesus because I love what I'm doing here."
And in terms of his plans for the future, he wants to do what God wants him to do.
"I'll put it this way, I'm not sure what god's plan for me is, but that's what I'll do. But all I can say now is I'd like to make it to 20 years and just take it one day at a time and continue to enjoy every step of it."
That brings me to my final thought. And for that why not have it come from the mouth of Yurechko, the man who probably knows Tommy better than anyone else who works here.
"When are we going to have Tommy Williams bobblehead night?"
Back to index...
About the Railcats
A day at Steel Yard is non-stop fun, and that's even without the baseball! The RailCats promise a wide array of laugh-out-loud between inning entertainment, great giveaways, jaw-dropping fireworks and a family-first, kid-friendly atmosphere! RailCats fans come in all ages, shapes, and sizes, and the RailCats promise every fan will have fun.
Quick Links
Find Us
Steel Yard
One Stadium Plaza
Gary, IN 46402
219.882.2255