Press Releases

GARY, IN – Would the Gary SouthShore RailCats rather be feared or loved? Easy. They want people to be afraid of how much they love the RailCats. The Gary SouthShore RailCats promise to earn your love this season with 10 "The Office" Wednesday games.
Wednesday may be hump day but at the Steel Yard, they'll be loaded with tremendous fun and a brand new "Dwight Schrute"-style jersey that the 'Cats will auction off for a good cause!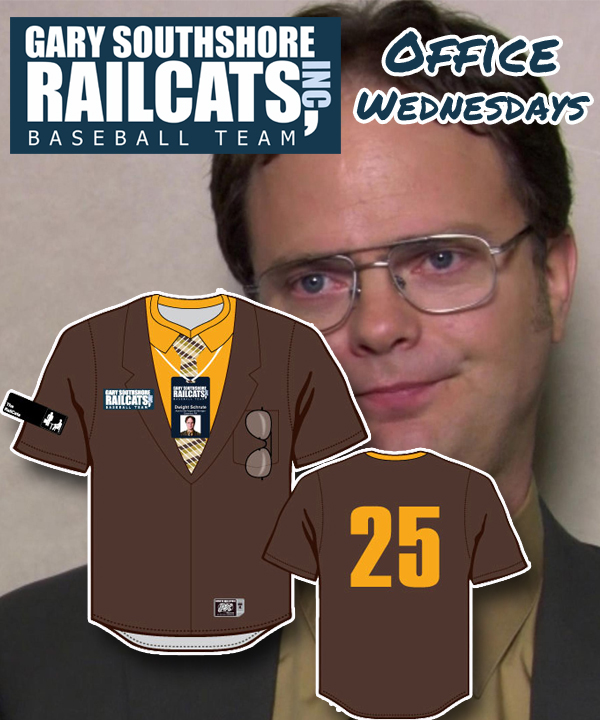 Michael Scott loves inside jokes, and every Wednesday during the season is your chance to be part of one! Activities included during assorted Wednesday games includes:
Win a gold medal (or yogurt lid – no flipping) with Office Olympics games!
"Threat Level Midnight" style mystery game to help Michael Scarn catch Goldenface.
Casino-themed dice and card games. (You don't have to bring two dates!)
Wake up to the smell of crackling bacon with bacon concession specials! (Watch your feet!)
Live Dundies Award ceremony for RailCats players
Beach Games style hot dog eating contest to see who wins the chance to be Regional Manager.
Sometimes I'll start a sentence and not know where it's going. I just hope to find it along the way. (Oh yeah, and MANY MANY MORE Office-themed games!)
Don't declare bankruptcy while having fun, purchase the RailCats Office Wednesday ticket package good for all 10 Office Wednesday games INCLUDING INDEPEDENCE DAY FIREWORKS EXTRAVAGANZA! Each package includes a souvenir "The Office"-style punch card that gets you a box seat ticket to EVERY WEDNESDAY GAME for ONLY $36! Fans who purchase this package are immediately entered to win one of the Dwight Schrute jerseys – we'll even have the team sign it. As Michael would said in business school "You have to play to win, but you also have to win to play."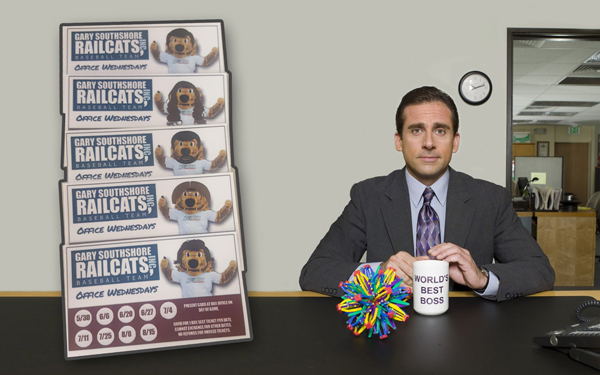 Michael Scott might think "Don't ever, for any reason, do anything for anyone, for any reason, ever, no matter what. No matter where. Or who, or who you are with, or where you are going…or where you've been…ever. For any reason, whatsoever," but the special Dwight-style jersey will be auctioned off during the season with proceeds being donated to charity. Michael Scott recommended donating the proceeds to Comic Relief or to Rabies Awareness, but the RailCats are letting their fans pick which charity to donate to. At a later date, the 'Cats will release an essay contest where fans can nominate their charity of choice to be the beneficiary of the jersey auction!
Every "The Office" Wednesday is sure to be loaded with so much fun that Youtube will want to come tape it. Don't miss your chance to have fun at the ballpark, relive your favorite moments (even if nostalgia is one of humanity's greatest weakness – second from the neck) from "The Office," and watch the 'Cats play ball. Don't forget "You miss 100% of the shots you don't take" – Michael Scott/Wayne Gretzky. Get your ticket package TODAY!

Back to index...
About the Railcats
A day at Steel Yard is non-stop fun, and that's even without the baseball! The RailCats promise a wide array of laugh-out-loud between inning entertainment, great giveaways, jaw-dropping fireworks and a family-first, kid-friendly atmosphere! RailCats fans come in all ages, shapes, and sizes, and the RailCats promise every fan will have fun.
Quick Links
Find Us
Steel Yard
One Stadium Plaza
Gary, IN 46402
219.882.2255