Front Office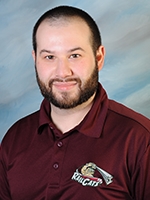 Jared Shlensky
Director of Broadcasting Media Relations
E-mail:
Jared Shlensky returns to the Gary SouthShore RailCats in 2018 for his second season as the team's Director of Broadcasting & Media Relations. Jared was the Radio Broadcaster for the Waterloo Bucks of the Northwoods League in 2016 and was the Broadcast & Media Relations Intern for the Cedar Rapids Kernels (Class-A Affiliate of the Minnesota Twins) in 2015. In 2014, Jared was the Broadcast & Media Relations Intern for the Joliet Slammers of the Frontier League.
Jared graduated from North Central College (Naperville, Ill.) in 2014 with a B.A. in Broadcast Communications. Jared has been to 24 MLB Stadiums, and is eager to see a game at all 30. Jared resides in Palos Heights, Ill.
About the Railcats
A day at Steel Yard is non-stop fun, and that's even without the baseball! The RailCats promise a wide array of laugh-out-loud between inning entertainment, great giveaways, jaw-dropping fireworks and a family-first, kid-friendly atmosphere! RailCats fans come in all ages, shapes, and sizes, and the RailCats promise every fan will have fun.
Quick Links
Find Us
Steel Yard
One Stadium Plaza
Gary, IN 46402
219.882.2255