Front Office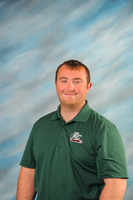 Noah Simmons
Assistant General Manager Head Groundskeeper
Phone:
219-822-2255
E-mail:
Noah Simmons enters his 9th season with the RailCats as Senior Director of Operations/Head Groundskeeper. Simmons is charged with the full time, and important, task of maintaining the RailCats home playing surface year round.
Simmons started in Schaumburg when he was 12 years old and worked there for two years before making his way back to Gary to work for the RailCats, where he has been since. The rumors that Simmons was born at the Steel Yard are actually false but he has been a part of the operation for so long that it might seem that way.
In addition to keeping the Steel Yard in tip top shape, Simmons also oversees facilities and operations of the Steel Yard for the RailCats. He is 2015 graduate of Portage High School and makes his home in Portage.
About the Railcats
A day at Steel Yard is non-stop fun, and that's even without the baseball! The RailCats promise a wide array of laugh-out-loud between inning entertainment, great giveaways, jaw-dropping fireworks and a family-first, kid-friendly atmosphere! RailCats fans come in all ages, shapes, and sizes, and the RailCats promise every fan will have fun.
Quick Links
Find Us
Steel Yard
One Stadium Plaza
Gary, IN 46402
219.882.2255