Current Roster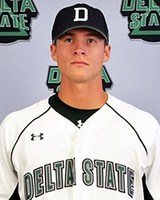 Seth Hougesen
#51
Position:
P
Height:
6' 2"
Weight:
185 lbs
College Experience:
Delta State University (2019)
Bats:
R
Throws:
L
Biography:
2019
Signed first pro contract with Gary on June 30
Graduated from Delta State University in the spring
Finished senior season with a 9-0 record, three complete games and a 2.44 ERA
Logged 59 innings, striking out 55 and walking just 14
2018
Transferred to Delta State as a junior in 2018, and went 2-1 with a 5.60 ERA in 12 games (eight starts)
In 35.1 innings, Hougesen allowed 22 earned runs on 40 hits and 22 walks while striking out 39
2017
Hougesen was named National Junior College (NJCAA) Pitcher of the Year at Dyersburg State Community College after going 14-1 with a 1.49 ERA
In 92.1 innings pitched, the southpaw struck out 107 batters and allowed just 74 hits
2016
Prior to attending Dyersburg State Community College, Hougesen attended Concordia University—Wisconsin for his freshman year
He was named to the Honorable Mention All-Northern Athletics Conference Team and the NACC All-Freshman Team after going 3-3 with one complete game and a 3.35 ERA in nine games (eight starts)
In 40. 1 innings pitched, the left-hander allowed 15 earned on 42 hits and nine walks while striking out 38
About the Railcats
A day at Steel Yard is non-stop fun, and that's even without the baseball! The RailCats promise a wide array of laugh-out-loud between inning entertainment, great giveaways, jaw-dropping fireworks and a family-first, kid-friendly atmosphere! RailCats fans come in all ages, shapes, and sizes, and the RailCats promise every fan will have fun.
Quick Links
Find Us
Steel Yard
One Stadium Plaza
Gary, IN 46402
219.882.2255