Coaching Staff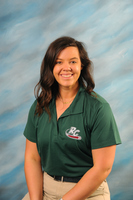 Stephanie Lohman
Athletic Trainer
Stephanie Lohman returns to the Gary SouthShore RailCats in 2021 for her fourth season as the team's Athletic Trainer.
Stephanie is a 2016 graduate of Ball State University, in Muncie, Ind., and was able to work with the baseball team along with other sports team during her time there.
Following graduation in 2016, Stephanie went on to be a Graduate Assistant Athletic Trainer at Southeast Missouri State University. While there, she was the athletic trainer for both the Women's Volleyball and Women's Tennis programs. While she never lost her love for baseball, she was able to help with baseball whenever she could. While working for Southeast Missouri State University, Stephanie also earned her Master's Degree in Higher Education with a concentration in Athletic Administration.
About the Railcats
A day at Steel Yard is non-stop fun, and that's even without the baseball! The RailCats promise a wide array of laugh-out-loud between inning entertainment, great giveaways, jaw-dropping fireworks and a family-first, kid-friendly atmosphere! RailCats fans come in all ages, shapes, and sizes, and the RailCats promise every fan will have fun.
Quick Links
Find Us
Steel Yard
One Stadium Plaza
Gary, IN 46402
219.882.2255