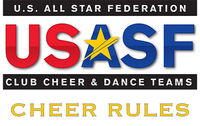 The USASF Rules, Glossaries, Divisions and Categories (for dance) are set in place to create a safe, consistent and fair platform for cheer and dance athletes at all star events. Safety is always the first priority when setting or adjusting any rule or guideline. Skill progression and fair play are then considered.
To support the safety guidelines, the USASF, through its Coach Credentialing and Safety Judge Certification programs, ensures that coaches are proficient in teaching appropriate skill progressions in specific areas for cheer and dance and that safety judges have a thorough knowledge of all rules and are prepared to enforce safety rule infractions during performances at competitions.
The USASF also establishes guidelines for best practices in areas of All Star not directly involved with safety rules, but important to the integrity of the sport.
By joining the USASF, event producers, programs, coaches and athletes agree to abide by all USASF rules and guidelines.
Here you can view an overview of the cheer rules.
If you want to learn how to acces the complete rules, please visit our Rules Access page.