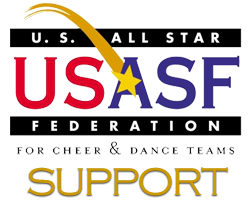 Need Assistance? The USASF website is designed to provide easy to find information for all types of questions. If, after looking through the site you're unable to find the information you need, here are some additional contacts:
MEMBERSHIP
How to join and membership questions for gyms and programs:
USASF Regional Directors
DANCE PROGRAM
Direct your questions by area of interest:
EVENT SANCTIONING
Please review the membership guidelines, download and submit the event producer application.
Contact Steve Peterson ([email protected]) with any additional questions.
SPONSORSHIP
Review sponsorship opportunities offered by the USASF.
If you are requesting more information, please complete the Affiliate Info Request Form
CHEER RULES
Have a question concerning a certain rule or need a clarification, please send an email to [email protected]
DANCE RULES
Have a question concerning a certain rule or need a clarification, please send an email to [email protected]
MEDIA
Please contact Lynn Singer ([email protected]), USASF Executive Director of Communications
TECH SUPPORT
Need assistance with your User ID, Login or do you have a technical question?
You can send a message to our Tech Support