Member Business Development - Services and Stages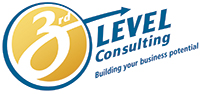 As part of the US All Star Federation's (USASF) commitment to further enhancing services provided to the USASF members, 3rd Level Consulting has developed a comphensive business development platform that will be great benefit no matter what phase of development your club is in.
3rd Level Consulting can help your cheerleading organization increase its profitability and efficiency. It will help you fine-tune your business systems, expand your business, and get your leadership team on the same "business page."
All USASF member clubs possess access to a multitude of business resources and other professional services that many countries (USA/Canada/Australia) are currently utilizing. All USASF member clubs are entitled to the Bronze level membership; however, upgraded memberships are available through 3rd Level Consulting upon request. Visit 3rd Level Consulting for more details.
3rd Level Consulting's integrated services include online management and leadership courses, monthly business education articles and access to the Success Solutions Dashboard. We have made available to you 3rd Level's monthly webinars along with their new eBook.
USASF member clubs can access additional share files including insights on services and tools to help your business by logging into your USASF Profile and selecting Member Resources.
eBook: Building Your Business Potential