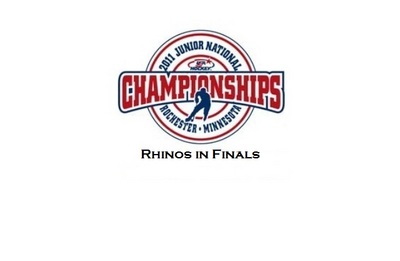 Rhinos goalie Trent Casper stopped 44 of 45 Idaho Steelheads shots and El Paso turned the tables on its Western States Hockey League rivals, earning a berth in the Tier III Junior A national championship game with a hard-fought 2-1 win in Rochester, MN.
The Steelheads swept the Rhinos in the Thorne Cup Finals, winning the WSHL's championship in El Paso last month. But Monday evening, the Rhinos found two elements of their game that were lacking in the league finals: defense and special teams play.
Against an Idaho team that simultaneously owned the WSHL's most prolific attack (257 goals scored) and its stingiest defense (84 goals against), El Paso knew special teams play would be key.
In its run to the championship game, El Paso has scored eight power play goals, including one Monday. Coupled with Casper's efforts in the semifinals, the Rhinos penalty kill held the potent Idaho power play in check for much of the game.
Ryan Harrison started the scoring for the Rhinos, putting his shot past Idaho's Blake Mendenhell at 7:21, assisted by Vinny Bohn.
Todd Thomas gave El Paso a critical 2-0 lead on the power play late in the second period. Left alone on the left wing, Thomas took a short pass from Bohn and slid his shot through the five-hole to beat Mendenhall at 17:47.
El Paso's physical style also took a toll on the Steelheads. Though both teams have played four games in four days, the Rhinos have been able to keep the heat on their opposition, throwing check after physical check to wear teams down. A fast-skating, less physical team, Idaho showed signs of wear and tear Monday.
However, the downside of being overtly physical is being overly physical. El Paso didn't help Casper much, committing eight penalties in the game – five of them coming in a pressure-packed third period.
At 13:55 of the third, the penalties finally undid El Paso as former Rhino Navarone Copley tipped Tyler Smith's pass past Casper for the power play goal, cutting El Paso's lead in half.
But despite the Steelheads' efforts to force overtime, Casper saved his teammates' bacon time after time, including a last-second glove save made literally as the horn blew to end the game.
When it was over, the Steelheads had gone 1-for-7 with the man advantage and had poured in 45 shots to El Paso's 21.
El Paso will face the Helena Bighorn in the national championship at 11 a.m. MDT Tuesday morning. Go to www.fasthockey.net for video and play-by-play, or go to www.pointstreak.com for live in-game stats updates.