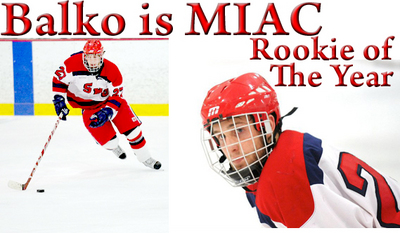 Rhinos career scoring leader Austin Balko has added another award to what is fast becoming a crowded mantle.
MIAC Rookie of the Year.
This, coupled with MIAC All Rookie Team and MIAC All Conference Honorable Mention, Austin is fast becoming a bright star in the MIAC conference.
"Austin was going to be a big contributor no matter where he went, he's the type of player that the more you expect of him, the more he delivers, if you put him in good situations he will flourish and make you look like a genius" said Rhinos coach Cory Herman
Balko has been one of the reasons St. Mary's has become a team to be reckoned with.
Along with Balko, other Rhinos stars Andrew Ketterer, Trevor Erickson, and Nic Gualano, also play for St. Marys and should help St. Mary's continue forward towards winning a MIAC championship and beyond.
"We've got a great relationship with St. Mary's, I talk to Coach (Bill) Moore and Coach (Ryan) Egan pretty regularly, and we had the pleasure of having Coach Moore as a guest when he came to El Paso for the Division finals a couple of weeks ago, I expect you'll probably see more Rhinos players heading to St. Mary's in the future" said Herman