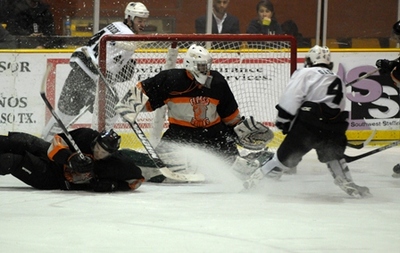 For the second time in three nights a Matt Tritsch short-handed goal proved to be the game-winner for the El Paso Rhinos, as El Paso wrapped up its fifth-straight regular season Mid-West Division title with a 4-2 win over the Boulder Bison.
The Rhinos also earn home ice advantage throughout the Western States Hockey League's Thorne Cup playoffs beginning next weekend.
It was Tritsch's hat trick goal on Friday night that lifted the Rhinos to a 4-3 win over the Bison in the first game of a key season-ending series between the two top teams in the division. Boulder defeated El Paso Saturday night, 2-1, giving added meaning to Sunday's regular season finale.
Tritsch, acquired in mid-season after spending time with the Fresno Monsters of the North American Hockey League, has been a key component in the Rhinos quest to keep the regular season division title they've held every season of their existence. His performance was certainly clutch for El Paso on Sunday.
With Boulder on the power play in the second period, centerman Nick Fazio pounced on a Bison pass that had been deflected into the neutral zone. As Boulder's defense was bearing down on him, Fazio backhanded a pass to Tritsch, who then wristed his shot top shelf past Boulder goaltender Matthieu Laberge.
Tritsch's goal at 13:28 of the second period gave El Paso a 3-0 lead at the time, following Juan Tellez's opening goal 4:52 into the game and Todd Thomas' strike at 10:04 of the second frame.
Though Boulder came back to make it 3-2, Tyler Benson scored an empty net goal from the Rhinos' zone to seal the win and put El Paso into the top spot to face fourth-seeded Tulsa at the Events Center next weekend.
The Mid-West Division semifinal series is best two-out-of-three with Game One and Two next Friday and Saturday, respectively. Game time is 7:30 p.m. MST both nights. If necessary, Game Three will be Sunday at 5:30 p.m.
For tickets and information, contact the Rhinos front offices at 915/479.PUCK (7825) or go to www.elpasorhinos.com.