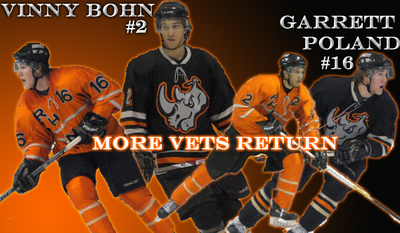 Returning players always help for transition from year to year and this year the Rhinos will look upon Vinny Bohn and Garrett Poland to help with that transition as well as be counted upon on the ice.
Vinny Bohn
Bohn came to the Rhinos late last season but provided consistant play.
He will be expected to be a leader and to anchor the defense being 1 of only 3 returning defensemen.
Vinny's gonna help us out alot this season, he was here last season and knows what we expect, he'll also be a good leader and mentor to the new guys coming in.
He's shown that he's got good offensive skill and we're expecting him to carrying on being an offensive threat on the ice.

-Cory Herman
Garrett Poland

Hard work and a great attitude are 2 of Poland's biggest assets, his progress on the ice has shown and this should be a breakout year for the Lincoln, Nebraska product.
Garrett's a great hard working kid who always gives you full effort, his off season training is already evident and he'll only get better especially with his work at the training center.
He should be a factor for us this season. It's time for Garrett to be the player he has showed flashes of last season.
-Cory Herman
Vinny Bohn

Bohn will provide a more depth to what will be a mostly new defensive corps.
The time he did spend with the Rhinos last season should prove to be valuable with so many new faces coming in.

Vinny came late last season and made an instant impact. We will be expecting him to be a consistent leader as a veteran as well as an offensive defenseman.
-Cory Herman
Garrett Poland
Poland made a name for himself as a hard worker.
Though because of a lot of depth at forward last season his time was limited he did make the most of his on ice time picking up a point in more than half the games he played in.
Garrett has a great work ethic and has done a lot of training over the summer. He's a great character guy and we will be looking for him to play a bigger role this season.
-Cory Herman