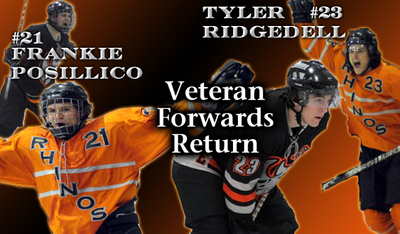 This year's Rhinos team will see many new faces but fortunately returning forwards Tyler Ridgedell and Frankie Posillico will help ease that transition.


Tyler Ridgedell
Ridgedell, a power forward will bring his trademark physical play, and toughness, but will also be looked upon to also carry more of the scoring burden this season.
"Tyler knows what I expect of him, he has all the tools, and was one of our top forwards at the end of last season.
I expect him to take up where he left off, being a physical presence, but additionally we need him to start filling up the net offensively like he has in the past".
- Cory Herman
Frankie Posillico
Posillico showed good offensive skills last season.
Already crafty with the puck, his emerging physical play only proved that he'll be a huge asset for this seasons team.

"Frankie was a very pleasant surprise last season, he came here and adapted to a different style of playing from what he was used to, we challenged him to be a more complete player on both ends of the ice and he really responded well.
We're expecting him to only get better and better. This could be a breakout season for him"
-Cory Herman