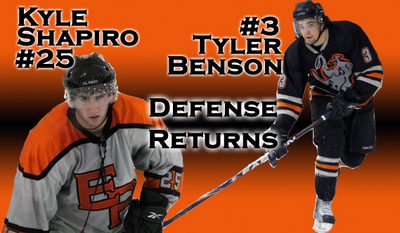 The Rhinos are no different, so re-signing Kyle Shapiro and Tyler Benson was a great starting point for the 2010-2011 El Paso Rhinos.
Their experience will be of utmost importance as the learning curve for at least 5 new defensemen will put to the test when they don the Orange, Black and sliver .
Kyle Shapiro
Shapiro's ability, size, mobility, and toughness make him a player any team would covet.
Coupling the above with his experience make the Ambler PA, product a strong contender to wear a letter this season.
"Kyle is a solid defenseman, last season he turned into, one of, if not the best defenseman in the league, so we expect him to be a force on the ice, but this season we need him to lead, and be an example to all our players on what is expected of them every day on and off the ice" – Coach Cory Herman
Tyler Benson
The once lanky kid from Crystal Lake, Illinois, has blossomed into a dependable defenseman.
Benson will also be looked upon to lead what might be a very young Rhinos team.
"Tyler, initially came to us as a defensive defenseman.
He has improved his offensive skills over the past 2 seasons, and we're expecting him to be a more complete player this season so he will be depended on to do more at both ends of the ice" – Coach Cory Herman