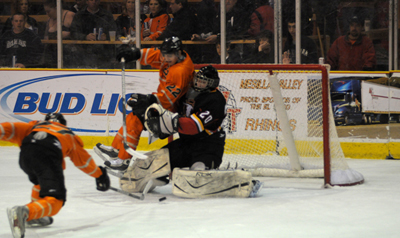 Defenseman Josh DeLoach and team captain Austin Balko each scored twice as the El Paso Rhinos downed the San Antonio Diablos, 7-1.
The Rhinos take a 1-0 lead in the best-of-three Mid-West Division semifinals over San Antonio. El Paso is seeking its fourth consecutive divisional championship.
The Rhinos defense did a good job preventing much if any set-up in their own zone, as the Diablos couldn't get their first shot on goal until the second period.
Goaltender Andrew Duff stopped 16 of 17 shots on the night, the lone goal coming on a short-handed breakaway after a defensive miscue allowed forward Ryan Pittman to skate in for the wrister and the score.
Donald Geary opened the scoring for El Paso in the first period, spinning away from a check on the left boards to walk in on San Antonio goalie Cody Davis. Geary got Davis down on the ice with a deke before pushing in a five-hole strike at 9:07.
DeLoach scored his first of the night at 15:34, building up steam in the right circle before lifting his shot over Davis' left shoulder for the top shelf goal.
A rejuvenated Diablos team brought a better effort out of the locker room to start the second frame and pressed the Rhinos into committing multiple penalties. During a stretch midway through the period, El Paso spent over five minutes killing off San Antonio power plays. Both benches knew that the team that scored the next goal would have all the momentum.
But despite the Diablos' pressure, it was the Rhinos who stepped up, as DeLoach made it 3-0 with a beautifully-placed short-handed strike at 9:37, beating Davis to the near post.
Swedish forward Timothy Avegard powered in another "shortie" at 13:57 after John Redmond's physical forechecking yielded the puck just inside the San Antonio zone.
After Pittman's short-hander with only :40 left in the second period, El Paso's answer came just 43 seconds into the third, as Balko found the back of the net, then scored his second goal just over three minutes later.
Nick Gualano -- who wrapped a stellar regular season campaign leading the Western States Hockey League in goals (47) and points (87) -- put home the final goal of the night on the power play at 15:26.
The Diablos' season is on the line Saturday night, as San Antonio will try to stave off elimination to force a decisive third game Sunday afternoon, while the Rhinos look to wrap up a berth in the Mid-West Division championship series against either Tulsa or Boulder.
Game Two is Saturday night at 7:30 p.m. at the Sierra Providence Events Center. If necessary, Game Three would be Sunday afternoon at 5:30 p.m.
For tickets and information, contact the El Paso Rhinos' front office at 915/479.PUCK (7825) or go to www.elpasorhinos.com.