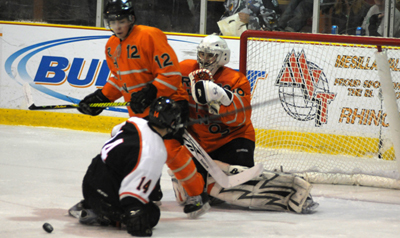 Frankie Posillico and Tyler Ridgedell each notched hat tricks and the El Paso Rhinos certainly kept game-sharp heading into the Thorne Cup Playoffs, winning the last game of the regular season, 13-0, over the New Mexico Renegades.
Andrew Duff got his 14th shutout as a Rhino, but only faced four shots on the night from a depleted Renegades roster.
Meanwhile, El Paso poured in 87 shots and, with the victory, wins (47) and points (94) -- have the top record in the Western States Hockey League this season.
The Rhinos move on to face the fourth-seeded San Antonio Diablos in the Mid-West Division semifinals next weekend here at the Sierra Providence Events Center, while in the other semifinal, the Tulsa Rampage head to Boulder to take on the Bison. Boulder is the only team in the Mid-West Division to have beaten El Paso in the regular season, accomplishing the feat three times in 12 games.
In the Western Division, new franchises in Fresno, CA, and Boise, ID, ruled the roost. The top-seeded Fresno Monsters will host the San Diego Gulls while the second-seeded Idaho Junior Steelheads will face the defending Thorne Cup champion Phoenix Polar Bears in Boise. All playoff series are best-of-three.
For their efforts, Posillico and Ridgedell were named Second and Third Stars of the Game, respectively. Defenseman Ben Vidro, who saw limited action this season, scored his first point of the season with a power play goal -- a line-drive blast in the second period and was named the game's First Star.
Games one and two of the Mid-West Division semifinals between El Paso and San Antonio will be Friday, Feb. 26, and Saturday, Feb. 27, at 7:30 p.m. If necessary, game three will be Sunday afternoon at 5:30 p.m. MST.
For playoff tickets and information, contact the El Paso Rhinos front office at 915/479.PUCK (7825) or go to www.elpasorhinos.com.