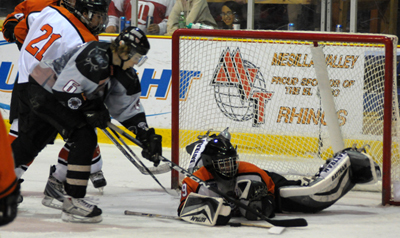 Though New Mexico goaltender Colton Ishmael saved 58 El Paso shots in a super effort for the Renegades, the Rhinos were still able to get six past him for a 6-1 win Saturday night.
After two hat tricks by different players in a 15-1 romp Friday night, El Paso's players had to settle for one goal each for six different players Saturday, and none until the second period.
After Ishmael stoned the Rhinos in the first period, El Paso made it a point in the intermission to create more traffic in front of him. The strategy paid off just 1:53 into the second frame, as Anthony Knuth tucked in his shot through a crowd with Ishmael on his back.
Defenseman Andrew Ketterer slapped home a beautiful top-shelf strike on the power play at 8:04 of the second, followed just over two minutes later by Austin Balko, tapping his shot in after two nice passes from Donald Geary and Nick Gualano.
The Renegades got one back as Jonathan Voyles popped his shot over Rhinos goalie Andrew Duff's left shoulder to make it 3-1 at 3:35 of the third period.
But El Paso was re-energized as Gualano, the top goal-scorer in the Western States Hockey League, scored one of his best of the year exactly seven minutes in. Low in the right circle, the Chicagoland sniper lifted his wrister through a screen, over Ishmael and just underneath the crossbar for his 47th goal of the season.
Navarone Copley scored at 12:16 of the third and Ben Henne five-holed a beleaguered Ishmael on the power play with a low bullet from right circle at 19:26 to wrap the scoring.
The Rhinos continue to improve on the team record for wins in a season, earning their 46th against just five losses -- the best mark in the WSHL.
El Paso and New Mexico finish the regular season Sunday night at the Sierra Providence Events Center with a 5:30 p.m. MST face-off. The Rhinos will then host the San Antonio Diablos in a best-of-three series next weekend in the Mid-West Division semifinals. Tulsa travels to Boulder in the other semifinal to determine who will square off for the divisional championship the week after.
For tickets to tomorrow's game, playoff tickets and information contact the El Paso Rhinos front office at 915/479.PUCK (7825) or go to www.elpasorhinos.com.